SAN DIEGO, CA – 37-year-old respiratory therapist, Jonathan Mildersten, like many other working at University Hospital, was getting burned out.  Pay was decreasing and vacation days slashed to help keep costs down.  Mildersten was forced to take on extra shifts just to help pay bills.
"I was getting so burned out working," said Mildersten.  "Late one night after a torturous shift I came home and plopped myself on the sofa.  Intervention was on.  What a great mind numbing show, just like Hoarders."
Mildersten had no idea that an episode of Intervention on AMC would have such a future impact upon him.  During the episode after the taped intervention, a heroin addict decided to go to rehab at a gorgeous retreat in California right on the ocean for 6 months.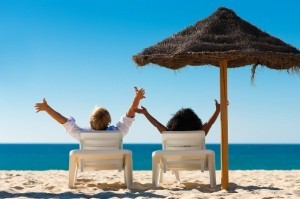 "Light bulb moment, I guess you could say," proclaimed Mildersten.  "That's when I decided to fake a heroin addiction to enter myself in rehab.  The facility looked amazing!"
Mildersten contacted his primary care doctor and told her that he had hit rock bottom with a heroin addiction.  "Just to make it more obvious I put a few scrapes on my arm and didn't take a shower for a week," said Mildersten.  "I really played up the rock bottom part and that I finally wanted to make a change by going to rehab."
His primary care doctor placed the referral to the rehab center and due to his "excessive motivation to kick his habit," he was accepted at the ocean front rehab facility in Malibu.
Mildersten has never had any heroin in his life, but he had seen enough addicts in the hospital on ventilators to know how to act and what to say.  Now he is 2 months into his 6-month treatment in Malibu and he loves it.
"This is the best treatment ever!" said Mildersten.  "I haven't felt this good in years.  The best part is that my insurance is paying for all of this.  "After my treatment is complete in 4 months, I really hope I don't relapse, *wink*"