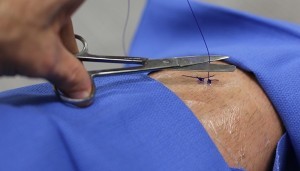 PHILADELPHIA, PA – Medical student Dan Richards was disciplined Thursday for cutting a surgical knot "too short" during a skin closure.
"The surgeon told me to cut the knot, but not on the knot. He said to get right next to the knot itself," said Richards. After it was cut the surgeon burst out in anger, "That's too short! A little longer [please]."
The knot in question didn't have to be replaced and when careful analysis was completed post operatively by a third party, comparing the resident's knot cut with the medical student's, the main difference was the medical student is not a doctor.
"Dan, what do you want to go into?" his resident asked him.
As every medical student answers this question during their M3 rotation, is the service that they are on. "Probably Surgery," he responded.
"Okay, give it another go," his attending said. Luckily for Dan he was awarded a second try. "Too LONG! That's just too long."