BALTIMORE, MD – Nurse anesthetist Megan Poole, a veteran CRNA at Johns Hopkins University, set a new record on Tuesday morning by taking a break while already on a break from her case.  The 46-year-old had smoothly induced anesthesia on a 70-year-old patient for placement of a prosthetic heart valve, when her colleague, Jim Wilson, arrived to give her a planned lunch break.  After the standard brief signout procedure, Poole left the operating room and moved to the Anesthesia Lounge adjacent to the Hopkins ORs.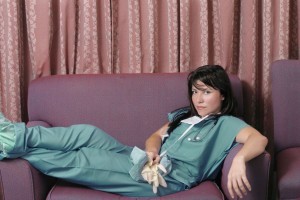 After 10 minutes had passed, anesthesia resident Kevin Balmer appeared in the lounge and informed Poole that he was told to give her a lunch break.  "I was a bit surprised, initially," said Poole, "but I wasn't going to let a golden opportunity slip through my grasp."  Thinking quickly, Poole began to signout her cafeteria lunch to Balmer, informing him that she was eating a 15-minute-old sandwich with no known medical problems.
"I didn't think he would buy it at first," she stated.  "But he's a first-year resident and I think he was scared to stop me?  I told him that the induction of my lunch went smoothly and that my French fries had been hemodynamically stable.  He just kept writing stuff down on his clipboard."  After finishing her signout, Poole left Balmer in the lounge to supervise her tray of cooling food.  She then left the hospital, walking to the Starbucks across the street to enjoy a cappuccino before returning.
"When I got back, my food had gotten cold, so Kevin had wrapped my sandwich in a Bair Hugger and put an infant warmer over my fries.  He said that my lunch had otherwise been quite stable.  I was dying but I kept a straight face."  Poole thanked Balmer for the break, finished her lunch, and returned to OR 17 to resume her cardiac case.
She told Wilson of her achievement, and word spread like wildfire through the Anesthesia Department.  "Amazing.  Simply amazing," said Dr. Linda Walker, the supervising cardiac anesthesiologist.  "I've been trying to crack the break-stacking dilemma since I was a fellow, but to no avail.  Then Megan just swoops in and nails it."
Michael Dorn, the chief CRNA at Hopkins, was equally impressed saying, "We've all been trying to make it to Starbucks on break for years, but never had sufficient time.  Who knew that the key would be a confused resident?"
Poole herself is looking forward to attempting the feat again.  At press time, Hopkins was considering simply assigning an anesthesia resident to the OR Lounge full-time to facilitate continuous break-stacking for docs and CRNAs, and Walker had submitted the case as an oral abstract for the ASA Annual Meeting.  "I think we are ushering in a new era in anesthesia breaks," said Dorn.  "I can almost taste the peppermint mocha."