DURHAM, NC – A startup company based in North Carolina's Research Triangle is growing exponentially and getting rave reviews from doctors due to its ability to find the unhappy and unrealistically dissatisfied patients on a physician's census.  The service, called "Doctor Sunshine," is able to link satisfaction survey results and comments to the patient who completed the survey.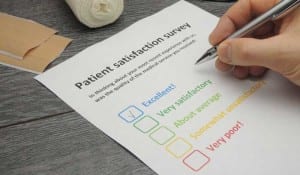 Company founder Matthew Givens, PhD, MBA, explained the process.  "When a physician or group of physicians hires us, we use a series of intricate computer programs to study survey data as it compares to the physician's schedule.  By factoring in date of visit, comments regarding the patient's medical problems and reason for visit, as well patients' past satisfaction survey responses, we can match the "anonymously obtained" survey to the patient who filled it out with 99.9% accuracy.  We then provide the identity of all the dissatisfied patients to the physicians, who typically elect to purge those patients from the census."
Local family practitioner Sandra Potter shared her enthusiasm about Doctor Sunshine with GomerBlog.  "It was such a drag to look at the day's schedule and see Debbie Downer, Charlie Curmudgeon, and Molly Malcontent.  With Doctor Sunshine, I spend all my days at work with friendly and appreciative patients who trust my training and judgment."
"Plus, now that satisfaction scores determine doctors' pay, these days we just can't afford to keep dissatisfied patients on the census.  Before Doctor Sunshine, I was essentially doing volunteer work for the dysthymic, addicted, and misinformed.  I don't know where those patients are going now, but who cares?  I saw a psychologist a few months ago for help with my burnout and depression, and he told me he guaranteed I would be happier if I could just flush the negative people out of my life.  Doctor Sunshine came along and supplied me with the metaphorical toilet to do just that."
When asked what patients can do to prevent getting dismissed by their doctor, Potter replied that filling out surveys with all the boxes checked as "excellent" or disregarding the survey completely virtually assures that the patient won't be fired.
Daniel Smegmahead, CEO of Press Ganey (the leader in patient satisfaction data collection), offered his thoughts on Doctor Sunshine to GomerBlog.  "This is just another industry built by parasites looking to elbow out some room at the healthcare table.  The doctors, nurses, and clinical staff do all the dirty work, while suits who work banker's hours and computer geeks take the majority of the revenue they generate.  This isn't a new concept."