Dr. Hans Veener, the chief of urology, could not identify the right ureter during a recent surgery at Marion General Hospital.  Shockingly, rather than continue looking in the correct anatomical position, or further his dissection, Dr. Veener consulted OB/GYN.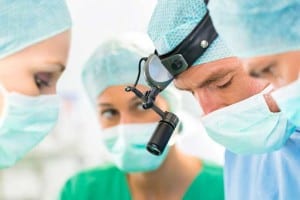 Even the circulators in the room stopped in their steps when they heard him ask for an OB/GYN consultation.  Mary Clam, who has worked as a circulator for over 20 years, stated, "This is the first time I have ever had a urologist not be able to find the ureter, let alone call OB/GYN.  I thought it was a joke."
It appears, though, that Dr. Veener has done his research and may actually be saving the hospital and the patient money due to his efficiency.  "I learned a ways back that if I called OB/GYN immediately, that it actually saved me time in the long run.  They have an uncanny ability to find the ureter almost immediately and instinctively want to cut it, and as long as I don't allow them to have any clamps, scissors, Bovie… Well, actually any instrument, they can't really damage the ureter," says Dr. Veener.
The OB/GYNs apparently appreciate this new-found relationship as well.  "I love our new friendship.  I think it works well.  Sometimes they need us to find the ureter.  The only downside is that I can't clamp everything in the pelvis to see if it has peristalsis.  Now, every time I damage the ureter in my cases, I don't feel bad calling Dr. Veener.  It's a win-win for everyone."