CHARLOTTESVILLE, VA – A new study sponsored by the College of American Pathologists concluded that there is an inverse correlation between the number of times a physician calls a pathologist and the time it takes to get reports signed out.  Dr. Trent Malone, the lead scientist on the study, says "This is the first time a study has tried to correlate clinician behavior and pathology reports and the results were unexpected: clinician behavior can have a very negative influence on the quality and turn-around time (TAT) of pathology reports."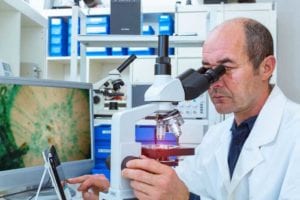 The study mainly evaluated the possible correlation between phone call frequency and TAT but it also included number of pages, time of paging or call, politeness during call, and relevance of the request as additional cofactors in the analysis.  Malone says that, some of these variables may look very subtle but they have a strong effect on the quality and TAT of reports.
Number of pages during sign out time had similar effects to number of phone calls.  "While analyzing some of the qualitative data we noticed that politeness and relevance of the call had some of the strongest effects measured on the study, with lack of politeness during phone call having the greatest negative impact on patient care and TATs," says Dr. Argh, a co-author of the study.
Dr. Brock Brat, a breast surgeon at University of Virginia Medical Center, was impressed with the results.  "I could never imagine that my multiple phone calls and pages, much less my aggressiveness, would have such a strong effect on my reports," said a humbled Brat.  Malone says that more research is required to determine if education is going to be enough to solve this problem or if a pharmacological intervention will be needed.