ANDERSON, CA – In a bold move, the Emergency Physicians at St Vincent Hospital in Anderson California have introduced the "Cheetos Fingers" sign into their diagnostic decision making algorithm. The high costs of abdominal and pelvic CTs and the subsequent radiation exposure have prompted the staff to come up with the decision rule.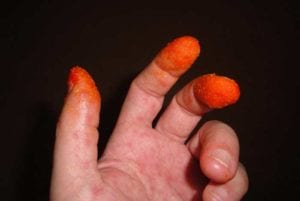 Dr Al Tapee, St Vincent's Medical Director stated in a recent interview: "Everybody knows the abdominal pain complaint cascade, which includes labs, fluids, Dilaudid and a CT scan. It's our job to keep patients safe so if we can eliminate at least one component of the expected abdominal diagnosis/treatment plan then we can keep costs down and increase patient safety."
A hospital volunteer nicknamed "Snack Time Sarah" makes her rounds both in the Emergency Department and the Emergency Department waiting room offering an array of mouth-watering snacks. These include deep fried cheesecake in both chocolate and strawberry, Hostess Ho Ho's served with whole milk, and large bags of Cheetos. Although the deep fried cheesecake initially was a favorite among the patients, it's the Cheetos that are the clear winner. "They fly off the cart, I can't keep them in stock," said Sarah.
When examining the patient for abdominal pain, the physician notes the presence of "Cheetos Fingers" the orange coloration of their dominant hand, typically the index finger and thumb. "It's a provocative exam finding, right up there with tenderness over McBurneys point," stated Dr Al Tapee.
If there's a positive Cheetos finger sign, then we can skip the CT and go to the Dilaudid and Discharge section of the plan. It not only increases patient safety, it's faster as we don't have to wait for results via virtual radiology.
In an unexpected side note, patient satisfaction scores have skyrocketed. Dr Tapee stated: "There's something about having unlimited, delicious snacks always available that people love."