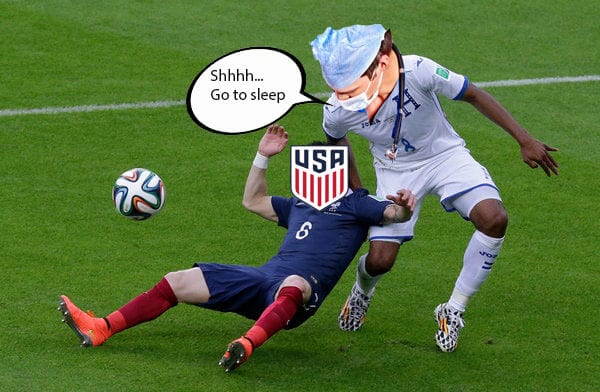 COUVA, TRINIDAD – The US Men's National Soccer Team sustained the most disappointing loss in Team history losing to Trinidad and Tobago eliminating them from the 2018 World Cup.
USMNT Coach Bruce Arena was quite honest and humble after the game, "It's anesthesia's fault. We couldn't get started at the scheduled start time due to anesthesia delays. By the time we got started we were down 2 goals."
Omar Gonzalez, who "scored" an own goal to open up the scoring for Trinidad and Tobago, said he meant to kick the goal away from his own goal but "Damn anesthesia couldn't get the ball to hold still so I could clear it out of our end. I can't be expected to kick in these types of conditions!"
Alvin Jones, who scored Trinidad and Tobago's second goal, felt like it wasn't entirely anesthesia's fault, "To be honest, thus US team was overlooking us from the start. The inability of anesthesia to provide the US team even the smallest amount of assistance helped for sure. To beat a country with 236 times as many people in a sport their country doesn't care about doesn't happen by accident."
Unfortunately, this loss means that Americans who were hoping for a reason to visit Russia will have to wait for either the 2030 Winter Olympics or the end of the upcoming World War III.