The world was stunned yesterday by events at County Hospital. Mr. Brown, an 88-year-old man with dementia, had been admitted with altered mental status and no clear precipitant. Only on day 5 during the ongoing search for a SNF did his team notice he'd not yet had a bowel movement.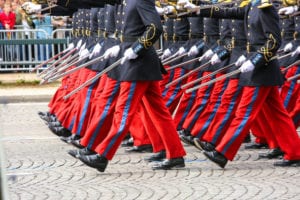 In an attempt to expedite discharge, his intern wrote in his note that he would add a more robust bowel "regiment," instead of using the appropriate word, "regimen." While usually an innocent error upsetting only the most pedantic physicians, today it would prove a costly mistake.
After sitting on the commode for 5 hours shouting at nurses for "disturbing his concentration," Mr. Brown was finally taken back to his bed. Shortly after lying down a heavily armed group of Spartan warriors with washboard abs entered the hospital and made their way to his room.
The leader of the team, Commander Ejecta, approached Mr. Brown and proceeded to use a razor-sharp broadsword to dislodge his impacted stool. The chain of events is made clear from a series of brief notes entered by nursing staff:
"BOWEL REGIMENT ARRIVED AT ROOM, MD AWARE"
"BOWEL REGIMENT BRANDISHING SWORD, MD AWARE"
"BOWEL REGIMENT STABBING ANUS, MD AWARE"
"LARGE AMOUNT OF STOOL RETURNED FROM RECTUM, MD AWARE"
"LARGE AMOUNT OF BLOOD RETURNED FROM RECTUM, MD AWARE"
"BOWEL REGIMENT LEAVING ROOM, MD AWARE"
"RN ON BREAK, MD AWARE"
Notably, despite these nursing notes, the subsequent bowel movement was not filed in the I/Os for the day. Commander Ejecta did, however, later find a post-it note on his sword asking him to please use a chuck next time.
Witnesses indicate that the bowel movement was followed by a gush of blood comparable to the elevator scene from The Shining. General Surgery was called and promptly took the patient to the OR for ex-lap. We are told he has recovered well post-operatively.
In the wake of this incident, the FDA has banned use of "bowel regiment" and has launched an investigation into "how the f*** did this ever get approved?" A frazzled intern told reporters, "I have learned my lesson and will be more careful with my language in the future."
We remind all doctors reading this article that, where swords are concerned, the pen is mightier but the bowel is not.