CHICAGO, IL – Craig N. Dowd, a medical/surgical nurse at Middlefield Hospital has been identified as the only male nurse in America who actually wants to be known as a "male nurse."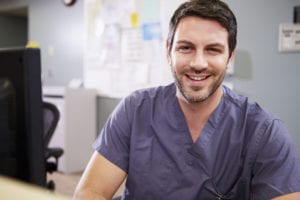 "I prefer it, actually," he said in our interview. "Ever since I was a new grad. My first patient ever asked if I was her doctor, and I told her I'd be her nurse. She immediately said 'Oh! You're a male nurse.' She was far from the last, too. At least half of my patients in my first year of practice seemed surprised that I was a male nurse. For a while, I was confused as to how my genitalia has anything to do with my career, but then it hit me: I'm a male nurse, and that's what I do best. Male nursing is my calling."
After much hard work and persistence, he created the certification for and became the first CRMN, or, Certified Registered Male Nurse. We asked Craig what goes in to becoming a CRMN.
"It's mostly insisting on tacking someone's sex to their job. I'll introduce myself to all of my patients by saying 'Hello! I'm Craig. I'll be your certified male nurse this evening.' It doesn't change much, but I think it's gotten me out of a lot of bed baths and bedpan changes."
Craig then showed us the plaque on his unit with the list of CRMA's. His chest puffed out in pride as he pointed out he was the only one.
"All of the female nurses are jealous, I'm sure. I've offered to help them construct a CRFM program, but not one of them seems to want to be referred to as a 'female nurse.'"
Craig's job satisfaction seems to be through the roof ever since making this change.
"I just wish I knew how important this was to me in my previous career as a male mailman."