EVERY HOSPITAL, USA – Hospital workers eagerly awoke this morning, ready and energized to take on another thrilling work day at their local hospitals.  The fact that today is Thanksgiving had no effect on most people's baseline excitement to get up and go to work.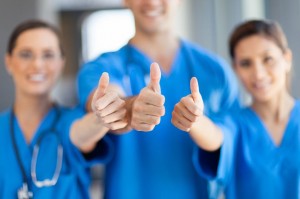 "I can't think of anywhere else I would rather be today," said ICU nurse Kimberly Williamson.  "I heard almost everyone else is at home eating turkey, stuffing, and gobs of other food, while laying on sofas watching football.  That doesn't appeal to me, so I would much rather be here at work… Oh Mr. Johnson stop trying to pull your ET tube out for the 50th time or I'll have to restrain you!"
EM physician, Dr. Richard Meyerton, usually awaits the turkey carving and turkey fryer accident patients to start rolling in.  "I try to get my Black Friday shopping done online in between seeing turkey accident victims.  Ridiculous how Black Friday sales are now starting at 4 p.m. on Thanksgiving!  All these injuries make me glad I am here at work."
"I think all this abundance of food and serotonin is overrated," said respiratory therapist Mark Zickers.  "By lounging around and doing nothing, those other non-working guys miss out on sucking up large thick mucous plugs.  What can beat that!  Kind of reminds me of Stove Top stuffing."
Not everyone working at the hospital today despises Thanksgiving though.  Some actually bring Thanksgiving to the hospital.  Patient televisions are commandeered and turned to sporting events instead of eye-gouging patient instruction videos.
Nurses stations are turned into glorious gourmet buffet lines despite defying Joint Commission recommendations and recent news of three nurses dying from eating at the Nurses Station.  Ventilated patients are given long acting paralytics to prevent unnecessary interruptions from hospital providers eating and watching TV.
"The only annoying thing about Thanksgiving in a hospital is when I sit down to eat my food and the patient's call light goes on.  Thank goodness for Ativan and vecuronium!" said Deborah Klinnelly, another ICU nurse.
"In many ways, Thanksgiving at a hospital is better than at home," says operating room nurse Martha Silvers.  "I get paid to eat a plethora of potluck food here and I don't have to deal with any of my family members.  The added bonus is everyone feels sorry for me and thinks I did a big favor for them by working today."