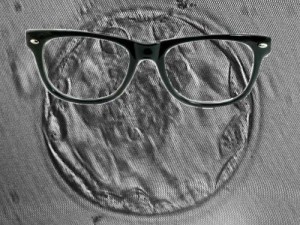 ABDOMEN, FEMALE PATIENT – Yesterday, a recently-fertilized hipster egg decided that the uterus "just wasn't my style" and it squeaked out towards the abdomen to find a better place to settle down.
"Yeah, the uterus is just so cliché, I wanted to be different," said the fertilized egg.  "Oh and please refer to me as blastocyst now, I've earned that respect.
"I mean we are told all of our life, okay, when you get set free out of the ovary, meet up with a nice strong spermie and then settle down with a house and a picket yolk sac in the uterus… I just wasn't ready for that commitment."
The hipster blastocyst went on to say, "There is nothing to do in the burbs, I mean, uterus, except just dividing.  The lack of other organs nearby for my placenta is just pitiful.  I just wanted to be attached to other organs, so I left."
The abdomen turned out to be a perfect place for the newly-fertilized egg.  It latched onto some bowel which was a direct source for getting nutrients, and was better at holding a conversation than the uterus.  "Yeah, it complained a lot more than uterus, so we got along."  Blastocyst elaborated, "I just can't get enough of this peristalsis.  Way better than uterine cramping."
"There is so much more square footage and I don't feel as locked down," said blastocyst.  "I plan to have my placenta spread out over multiple organs so I can get whatever I need."  Blastocyst was referring to the liver, spleen, fallopian tubes, ovaries, large bowel, pancreas, and stomach as other placental attachment points.
Meanwhile outside of the abdomen, OB/GYNs at Mercy Hospital were running around wildly and cursing this ectopic and looking for a way to transfer the patient somewhere… anywhere else besides Mercy Hospital.