RENO, NV – GomerBlog was first on the scene at a preoperative holding bay outside of the main OR, where a patient about to undergo surgery made a fascinating proclamation.  GomerBlog was investigating a recent allegation of an anesthesiologist sneaking into patient's rooms the morning of scheduled surgery and feeding them in order to delay or cancel their surgery.  It was during this investigation that we "stumbled" across a new story.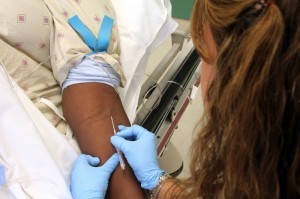 Patient, R.K., was about to undergo an arthroscopic ankle surgery when upon greeting his anesthesiologist proclaimed, "Doc, I hate needles."  Fortunately our audio was running at the time to catch this earth-shattering claim against sharp metal objects made to penetrate the human skin and sink into a blood-filled vessel.
"I have never heard anything like this before," said operating room nurse Billy Sharon, whose very creative friends call him B.S.  "Most people come in here either not saying anything or at least saying they absolutely love needles and IVs.  To hear someone go the other direction was a once in a lifetime experience."
Early reports state the patient R.K. has 35% of his body surface area covered in tattoos, most likely placed by an unknown technique which doesn't use needles.