PHOENIX, AZ – Doctors in Arizona have discovered a revolutionary cure to the common cold.  On October 1, John Sniffles entered the emergency department at Valley Hospital.  After a seven-hour wait, he was seen by the physician assistant on duty.  John described his symptoms as a runny nose, cough, and fatigue.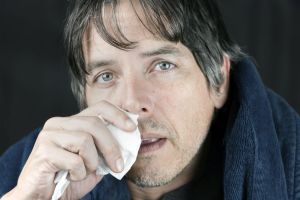 "I felt as though I was on the verge of death.  I blew my nose at least five times that day and coughed nearly seven times.  I thought it was the end for me, especially when my tissue was pink."
The physician assistant looked at the completely normal vitals and did a head, neck, and respiratory exam.  After his 42-second exam, he concluded, "John you have a cold, it will resolve over the next week, give or take a few days."
The patient replied, "What antibiotic are you going to give me for this?"
"None.  Colds are caused by viruses.  Antibiotics won't help," the physician assistant stated.  "You can take some DayQuil during the day and NyQuil at night."  John was discharged and hopelessly walked out and returned home, but not before buying some DayQuil at a local pharmacy.
One hour of taking a dose of DayQuil, John decided he was not feeling any better and gave up and drove to Our Lady of Peace Hospital.  He checked in and again told the physician on duty, Dr. Phil Yourmeds, his symptoms.  Eager to get the patient out of his emergency room, Dr. Yourmeds wrote a prescription for a Z-Pak and discharged the patient.
Several days later, John returned to Our Lady of Peace to let Dr. Yourmeds know that he was cured.  "After five days of symptoms, I feel so much better!  You are a miracle worker."
With word of this discovery getting out, Dr. Yourmeds had an exclusive interview with GomerBlog.  "It appears we now have a cure for the common cold.  After millions of dollars on research and countless clinic trials, we now have a solution to this seemingly self-limited illness.  Who would have really thought that antibiotics were in fact the answer!"
Dr. Yourmeds went on to say, "It would be too much of a coincidence for this patient, John Sniffles, to have gotten over this illness in the time it took him to finish this medication.  I believe this drug may be attacking the viral capsid.  I will be informing the Centers for Disease Control to start implementing the use of Z-Paks as protocol for treating colds.  No longer will Z-Paks be used as a placebo to get annoying patients out of hospitals across this great country simply to raise Press Ganey scores."