BOSTON, MA – Ride-share company, Uber recently announced a new service in Boston called UberEMS.  The new pilot program will only be available to those with MassHealth, Medicare or Medicaid.  There will apparently be three different levels of service – chair car, BLS, and ALS ambulances.  All UberEMS units will operate similarly to UberXs, where any available EMS units in the Boston area can choose to pick up patients.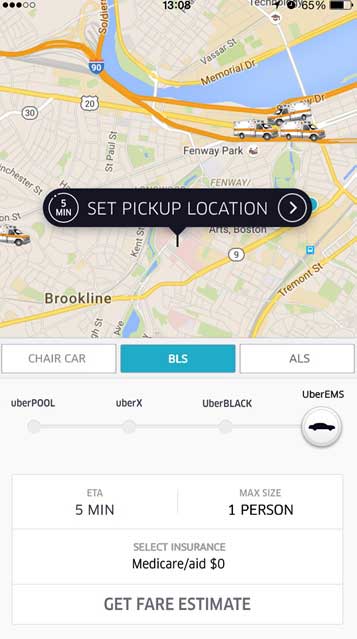 For added convenience to UberEMS users, chair cars, staffed by NRTDs (Nationally Registered Taxi Drivers), will now be available to transport anyone to and from anywhere, not just to and from medical facilities.  However, BLS and ALS units will remain only for transport to and from hospitals.  A chair car may take up to two patients at a time.  However, chair cars will generally have one unless, transporting between two EDs.
UberBLS units can be requested for any complaint from a stubbed toe to abdominal pain.  Boston area BLS units can be pulled for any UberBLS call.  UberEMS, as an added service for their users, will take priority.  UberBLS patients will be triaged first at the ED and placed immediately into a room.  Uber is currently in negotiations with Accomplices Healthcare System (AHS) to have all its patients have standing orders for PRN turkey sandwiches upon arrival to any of their Boston area hospitals.
UberALS units will be available for calls such as "chest pains" and drug seekers that expect medics to break open their drug boxes for morphine to treat their "pain."  Similarly to UberBLS, UberALS will also receive priority at the EDs.  However, these patients will be required to be triaged into rooms with a TV.  UberEMS is also currently seeking approval from MA OEMS to have ALS units have standing orders for PRN turkey sandwiches and a fruit cup.  So, in addition to the traditional iPhone, UberALS drivers will receive a locked cooler in order to store the PRNs for UberALS patients.
First-time UberEMS users will receive a thorough assessment including a SAMPLE history.  However, to save time, users will have a limit to 5 medication allergies and 3 chief complaints.  In addition, UberEMS users will have their information and hospital preference saved on their account, as well as their insurance billing information.
Uber expects that their new service will be successful because patients will be able to save precious time from request to turkey sandwich and ambulance drivers will be happy to continuously drive lights and sirens around the city.  Uber hopes that with the success of this pilot program, it will start accepting private insurance plans and expand to cities around the world.