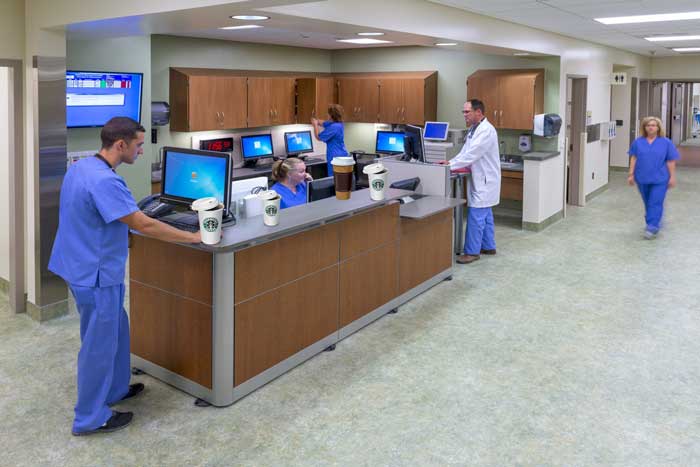 The Joint Commission (JC) has abruptly reversed their ban on caffeinated drinks at physician and nursing workstations in light of new evidence that caffeine prevents doctors and nurses from inadvertently harming their patients.
Statisticians were stunned to discover that patient morbidity and mortality rates remained high after mandated duty hour restrictions took effect in 2003. Injuries were attributed to an increased number of signouts and handoffs. However, astute resident Dr. Joe at New York City Hospital discovered that duty hour restrictions also went into effect at the same time that the Joint Commission cracked down on doctors and nurses consuming coffee while working at their desks.
Heavy fines led hospitals to ban food and drink at nursing stations and on the wards. Sleepy residents unable to leave the wards for elaborate breaks became despondent and sloppy on the job. As Dr. Caffeinopenic put it, "When I get to the hospital and all of my patients are crashing, a coffee would really help me to multitask.  I would probably remember my ACLS guidelines if I wasn't withdrawing from caffeine."
A prospective trial designed by emergency physicians at New York City Hospital randomized residents and nurses to coffee versus no coffee at workstations and found that caffeinated residents and nurses worked better with others in the department, made fewer errors, and didn't yawn directly into their patients' faces.
No serious events of coffee spilling into patients' open wounds were reported. A combination of duty hour restrictions and caffeine at workstations led interns to begin functioning as senior level residents within one month. "I've never seen anything like it.  This is a huge leap for medical education and our patients are finally safe from careless medical errors!" proclaimed the dean of graduate medical education.
Of note during the study, one coffee drink did spill over a keyboard ruining it, but no one was injured or burned in the tragic accident.  Non-caffeinated drinks are still not allowed at the nurses station due to an unfavorable risk/benefit ratio, and sodas are still questionable as 3 nurses did die at Mercy Hospital last year from drinking soda at the nurses station.