OMAHA, NE – Despite doubling up on his morning coffee, medical student Brad Haverford has found it exceedingly difficult to stay awake during his fourth-year radiology elective.  "I heard it was a really easy rotation," yawned Brad.  "But I just can't stay awake longer than a chest X-ray.  I thought rotating in neurosurgery was exhausting."
Haverford, who is applying to emergency medicine, hoped he would get a chance to learn how to read plain films and head CTs.  Instead, he has only learned how to say the alphabet backwards, which he practices in his head from 9:00 until 9:10 when his eyelids begin to droop with the intoxicating darkness only a radiology reading room can bring.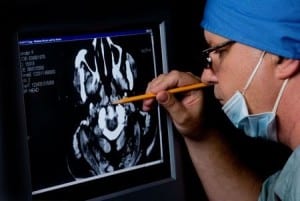 Brad claims to try to help by looking up patients' histories.  "The resident usually just pushes me aside and says he can look it up faster than me," he lamented.  Having put in the effort, Haverford takes this as tacit permission to play Angry Birds on his phone until his eyes lose focus and his head begins to bob.  By the time the first positive abdomen CT came in this morning, Brad was already in the middle of his second REM-cycle.
"Maybe tomorrow I'll increase it to a third cup of coffee.  The combination of caffeine and having to pee uncontrollably may help keep me awake," he optimistically hypothesized.  "I've heard Native Americans would use the same tactic to prepare for early morning battles.  I'm sorry, I'm rambling.  This is just the first time anyone's paid attention to me for this long the entire rotation."