Mercy Regional Hospital ER's newest RN Heidi Evans has been having a rough start to her career at the triage desk, where her job is to determine patient priority level on a scale of 1-5, with 1 being reserved for the most critical patients.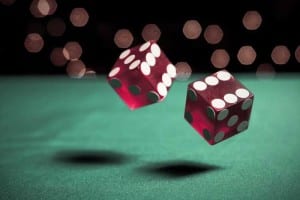 "It is my job to make this crucial decision. Honestly it gives me anxiety. Sometimes I think the patient needs to be seen quickly and want to assign a 1 or 2, but vital signs are normal. I have to assign them category 3 and put them in the waiting room when all beds are full. That is the purgatory of the ER. No immediate rooming if we are full, but too sick to be sent to Fast-Track."
"I began to have palpitations whenever I had to pick the number. Patients asked me if I was alright, but honestly, I am not." Heidi vented to her charge nurse about it, and was told to use her critical thinking skills to solve the problem."
That is when she decided to bring dice from home. She rolls it on her desk whenever she is unsure which number to pick. She just re-rolls when she gets a 6. Heidi has noted much lower anxiety since adopting this system, but not all staff members like it. "I went immediately to the room of a patient who was labeled Category 1 with "leg pain" reported Dr. Danielle Johnson. I expected to see some type of trauma with a mutilated leg and a patient bleeding. Instead I found a pleasant elderly woman who ended up having arthritis in her knee."
Fast-Track NPs and PAs are frustrated with the triage process, but find it difficult to care due to burnout. "She messes it up more than she gets it right. I do workups all day and admit half my patients. Abdominal pain and altered mental status are things I see a lot. I even had a full-blown STEMI last week. She keeps me on my toes, but it gets old."
Charge nurses have taken note of the speed and decisiveness Danielle has developed. They are considering promoting her to the code team, where she will have to quickly decide which size needle to put in which vein during cardiac arrests.