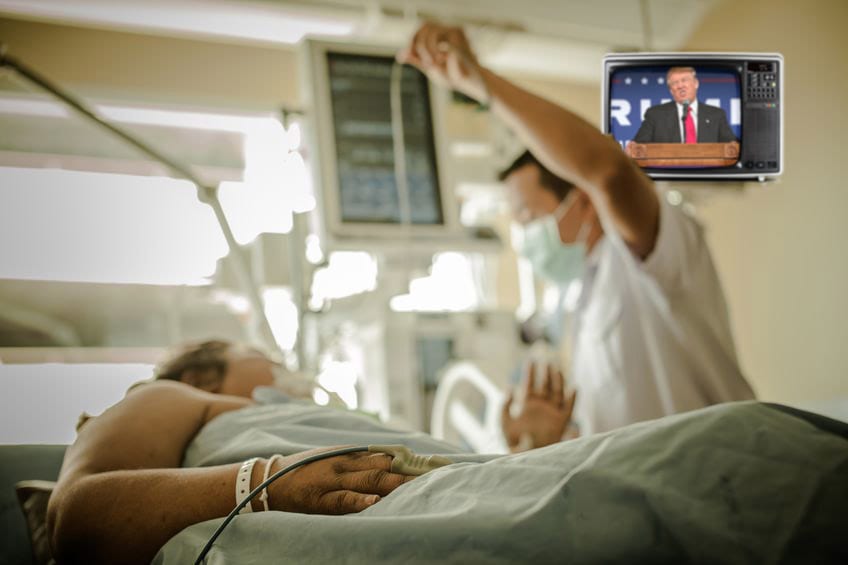 BOCA RATON, FL – Area patient Murray Bernstein miraculously awoke from a coma after several years, only to realize that Donald Trump was the President of the United States; the shocked patient immediately requested withdrawal of life-sustaining care.
"I was examining Mr. Bernstein's tracheostomy site during my daily rounds when he suddenly opened his eyes and purposefully moved," said Madre De Díos Hospital staff physician Dr. Sri-Sheshadariprativadibayankaram.  "During my assessment it became clear that he was of sound mind and judgment.  He was able to reliably blink once or twice to answer yes or no questions."
Dr. Sri-Sheshadariprativadibayankaram continued.  "However, the TV in the room was on, and when he saw the news that Donald Trump was actually the president, he became tachycardic and tachypneic.  We thought about calling a code but he started to communicate that he wanted the ventilator to be turned off right away."
At press time, Chlöe Less, the heroic hospital administrator was rushing into Mr. Bernstein's room to coerce a good patient satisfaction survey response prior to withdrawal of care.  If the satisfaction score is less than 99%, per Hospital CEO Chaz Moneybags' policy, it would trigger an automatic 25% paycut for the doctors & nurses.
"We're always trained to respect patient's wishes," offered Dr. Sri-Sheshadariprativadibayankaram, "so when Mr. Bernstein indicated that Trump's ascension made him question his own will to live, it kinda sorta made sense."