LOUISVILLE, KY – Proud alcoholic Steven D'Amato presented to the Emergency Department (ED) of Louisville Medical Center (LMC) with minor withdrawal symptoms and mild stomach upset, looking for something to help settle his nerves.  D'Amato was highly disappointed because the GI cocktail he was given just wasn't the kind of cocktail he had in mind.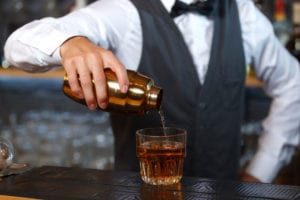 "A Martini is a cocktail!" began D'Amato lecturing out loud to no one in particular.  "A Manhattan is a cocktail.  A Margarita, a Mojito, a Cosmopolitan, those are cocktails.  This?  This is cockamamie."
D'Amato was corrected and told it was not cockamamie.  A GI or gastrointestinal cocktail is a term used to describe a mixture of medications, such as antacid and viscous lidocaine, to help control dyspepsia.
"I don't know about dyspepsia," stammered D'Amato.  "All I know is that dyspatient, meaning me, wants a real cocktail."  Whenever a health care provider passed by, he asked for something: an Old Fashioned, a Side Car, an Irish Coffee, a Jack Rose, a Boulevardier, a Sazerac, a Vieux Carre, a Mint Julep, a Whiskey Sour, a Mai Tai, a Pisco Sour, a Last Word… He even asked for a Daiquiri.
Finally, one nurse had it and very nicely told D'Amato to "shut up" and "drink your GI cocktail."  He took it like a shot and slammed the empty container down on the counter, as if in a country Western saloon.
"My apologies, ma'am," said a reflective D'Amato.  "May not help my nerves, but my stomach does feels better."  He paused and swallowed his pride.  "This GI cocktail… It actually was yum in my tum.  Thank you."
UPDATE:
D'Amato was spotted at a local bar, getting funny looks from the bartenders for his persistent requests for a GI cocktail. "How have you not heard of it? It's yum in my tum!"