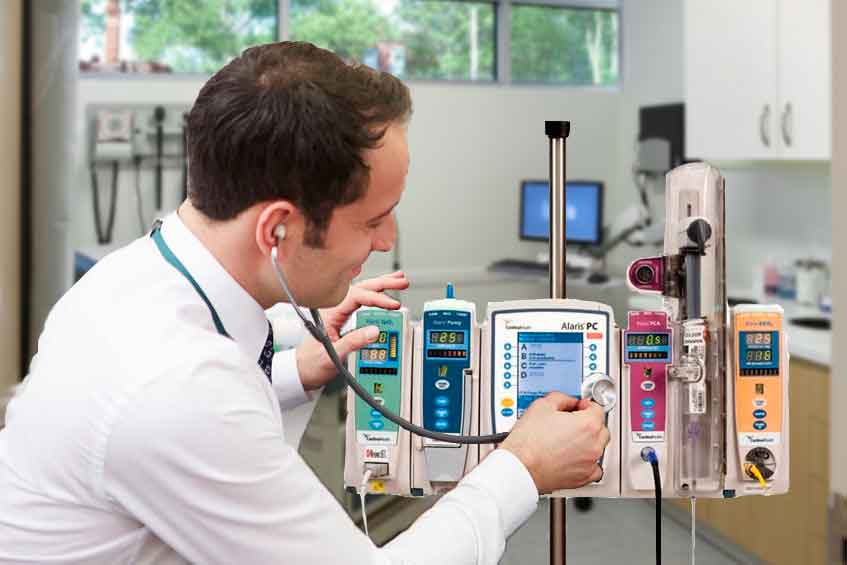 ATLANTA, GA – "Shhh," orthopedic surgeon Thor Hammersley told befuddled onlookers as he used a stethoscope (or, as he puts it, "a mini jump rope") to carefully listen to one of his must trusted friends, the Ancef pump.  "Come on, little buddy, I need you to work your magic."
Hammersley's actions are groundbreaking as orthopedic surgeons are not known to carry stethoscopes, only drills, biceps, and weights.  Chance encounters with stethoscopes usually lead to one of two outcomes: external fixation or simply throwing them away since they can't be used for pull-ups.
"You have to admire Hammersley," admitted hospitalist Lara Walcott.  She admits to having walked by the orthopod that tried, patting him on the head and saying "There, there" before chatting with us.  "Come on, at least he's the first orthopod to figure out that it can be used to listen to things.  That's impressive."
Walcott is right.  Earlier this year, Hammersley became the first orthopod – well, health care practitioner, really – to ever auscultate a femur.  "I didn't hear much," Hammersley would admit, convinced the bone was still sleeping.
Unlike the femur, Hammersley believes that he hears the "lub dub" of the Ancef pump's heart.  He has reassured his colleagues that he doesn't appreciate any lung sounds, though the lack of bowel sounds has him concerned for a post-op ileus.  After consulting Medicine and Surgery, Hammersley was relieved to remember that the Ancef pump is an inanimate object and therefore not human and unlikely to suffer ileus.
Despite that, passersby comment that Hammersley continues to spend more time at bedside with the Ancef pump than most other doctors do with patients.  "Way to go, Ancef, you're doing a great job."  He caresses the pump with genuine affection.  "Thanks for being there for me like you always.  Bones, myself, we're nothing without you."