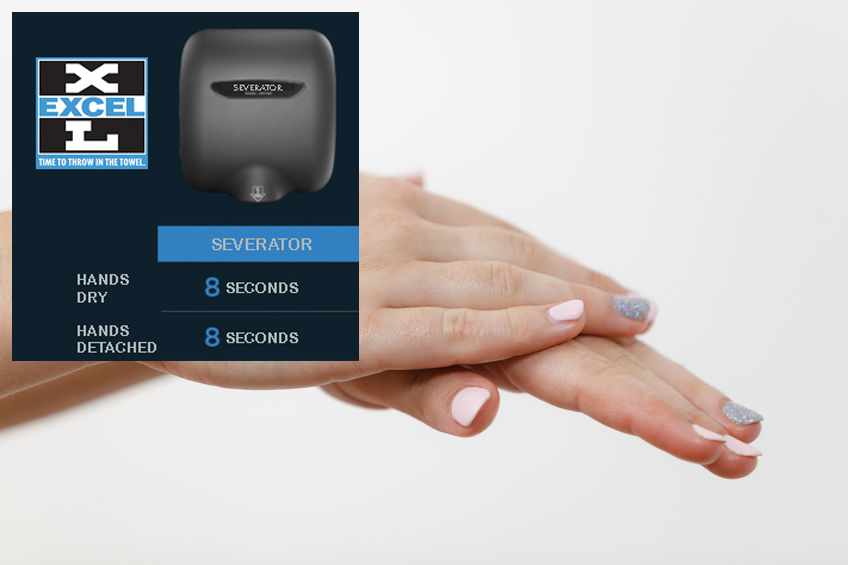 EAST LONGMEADOW, MA – Manufacturer of XLERATOR hand dryers, Excel Dryer, has announced that it has produced their most powerful hand dryer yet, called the SEVERATOR, which can not only dry hands in 8 seconds, but also detach them from the wrists in that same amount of time.  This is a boon to anyone who doesn't have the time to dry their hands or just plain can't deal with their hands any more.
"We've already prided ourselves on innovations," said Excel Dryer spokesperson Ernest Dwyer.  "You wash your hands, you do stuff, you get them dirty, and you have to wash them, dry them all over again.  So why not eliminate the problem at the source?"  Dwyer went on to say that by harnessing the power of an F5 tornado, the SEVERATOR will first dry then sever one's hands for good, thereby making sure they will never, ever get dirty again.
Infectious Diseases specialist Leanne Burton is ecstatic about the new development.
"In health care, we always preach about hand-washing and keeping those hands clean only for those hands to get dirty again," explained Burton, her detached hands replaced by gauze pads that are still somewhat soaking through.  "But what if we had an industrial hand dryer that blew our limbs off, bugs along with it?"  Burton excused herself so she could take another dose of Percocet.
Regarding the technical specifications of the new SEVERATOR hand dryer, it provides air velocity of up to 19,000,000,000 linear feet per minute (compared to the puny 19,000 LFM of their XLERATOR hand dryer) and can produce an air temperature of up to 935 degrees Fahrenheit (compared to the lukewarm 135 degrees F of their XLERATOR hand dryer).  If your hands won't survive, neither will MRSA or C. diff.
"That means in the event your hands still remain attached," Dwyer clarified, "the XLERATOR will incinerate them and leave nothing behind.  Now with that kind of power, who needs paper towels any more?"