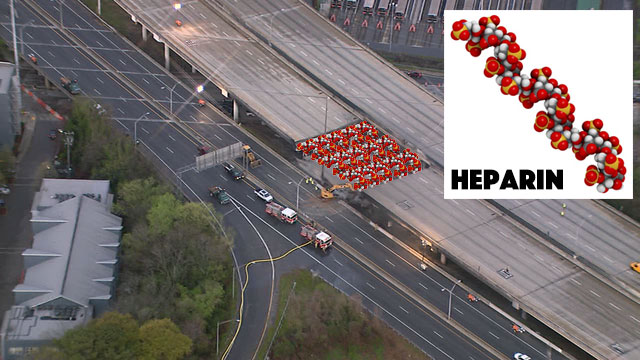 ATLANTA, GA – Nearly 24 hours after a massive fire engulfed and collapsed a section of I-85 Northbound near Piedmont Road, rendering it subtherapeutic and forcing Governor Nathan Deal to declare a state of emergency, local physicians at Emory University have engineered an ingenious temporary fix to buy firefighters and engineers extra time: a heparin bridge.
"If heparin can be an effective bridge for a patient on Coumadin awaiting a therapeutic INR, then why can't it be an effective bridge in this scenario? We use heparin all the time," stated Emory University's Executive Vice President for Health Affairs Jonathan Lewin, MD, FACR. "If a collapsed bridge isn't an indication for a heparin bridge, then I don't know what is."
Mayor Kasim Reed is confident that bridging with heparin should help relieve the gridlock and buy precious time for experts to properly assess the extent of the damage. However, he asks those commuters choosing to drive on I-85 to remain hypervigilant. "In case there is any unexpected bleeding on the highway, keep your speeds to a minimum in order to avoid hydroplaning."
Though the I-85 collapse is a historic one, it still doesn't come close to the second-half collapse suffered by the Atlanta Falcons against the New England Patriots in Super Bowl LI.
According to state and local officials, the I-85 Northbound heparin bridge will be continued until all the debris from the collapsed bridge is cleared and a new bridge is considered safe, sturdy, and therapeutic, ideally with a goal INR of 2 to 3.
"Let's just hope and pray we don't lose IV access on this bridge," said Reed.