PITTSBURGH, PA – Arriving to the surgical ICU with his little box full of eye equipment, precious ophthalmologist Thomas Finkle reportedly tried to help when a Code Blue was called.  How adorable!  According to medical records, Finkle was finishing a blurry vision consult when a Code Blue was called on a patient with a ruptured abdominal aortic aneurysm (AAA).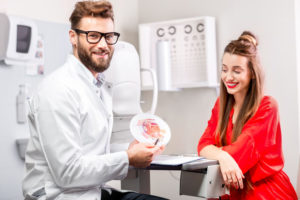 Witnesses reported seeing the "sweet little eye doctor" timidly poke his head around the corner to see if anybody else was responding to the code.  Once he realized he was the only board certified physician in the patient's vicinity, Finkle immediately stopped to tie his shoes despite evidence suggesting the darling ophthalmologist was wearing loafers at the time.
Much to Finkle's relief, the code team arrived within minutes and began resuscitating the patient.  "I remember seeing a physician tiptoeing slowly toward the code as we were working," reports ICU nurse Blaire Johnson, who was busy pushing IV fluids into the decompensating patient.  "He looked so cute standing there holding a tiny bottle of eyedrops and a little penlight."
When asked about his contribution during the code, Finkle claimed to have taken a "supervisory role" during the hour-long resuscitation effort.  At one point, the adorable physician was seen intensely monitoring an IV pole with his brow furrowed while other health care providers were performing chest compressions and administering life-sustaining medications.
"As the code was winding down, I looked over and saw him standing in a crowd of med students holding a single piece of gauze," announced Johnson.  "The whole thing was so endearing."