SAN FRANCISCO, CA – Local organic mom, Fern Meadow, is pleased that her life-threatening leg infection is pandrug-resistant.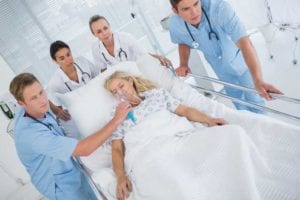 "When I spiked a fever and saw red streaks going up my leg I didn't want to go to the hospital because I was afraid they'd inject me me with all those toxic chemicals from the pharmaceutical industry," she explained. "But then I must have forgotten to take my homeopathy regimen because I became unconscious and was brought here anyway."
She recalled with glee the moment she came out of a coma and the infectious disease doctor delivered the good news: "He said, 'I have bad news.' He looked very serious and said there was nothing they could do for me besides supportive therapy. I couldn't contain my excitement! Antibiotic-free is very important to me."
As her systolic blood pressure dropped to 81 mmHg she continued, "My infection naturally evolved all of this resistance thanks to poor hospital antibiotic stewardship programs and lack of communication between different levels of care. I am proud of my community! It is important to support locally grown deadly mutant bacteria to avoid unnecessary fuel and transportation costs."
"The doctor said that my bacteria is even resistant to colistin, and so am I. I googled it and it can cause kidney damage. Why would I want that in my body? Viva la resistance, down with colistin!" she said as she went into DIC.
Fern raised her voice to be heard over alarms indicating that her resting heart rate had surpassed 125. "My bacteria is free-range, never caged. It's hormone, rBST, and GMO free. It's sustainable thanks to all this resistance. And it's raw, just look at it!" She held up her leg to show off a large, raw, exposed area with purulent discharge dripping down onto her sheets. As her nurse rushed in to assess her deteriorating status, Fern added, "and it's gluten free!" despite not having celiac disease on her problem list.
At press time Fern was overheard asking "is that ET tube BPA-free?" between gasps for air.