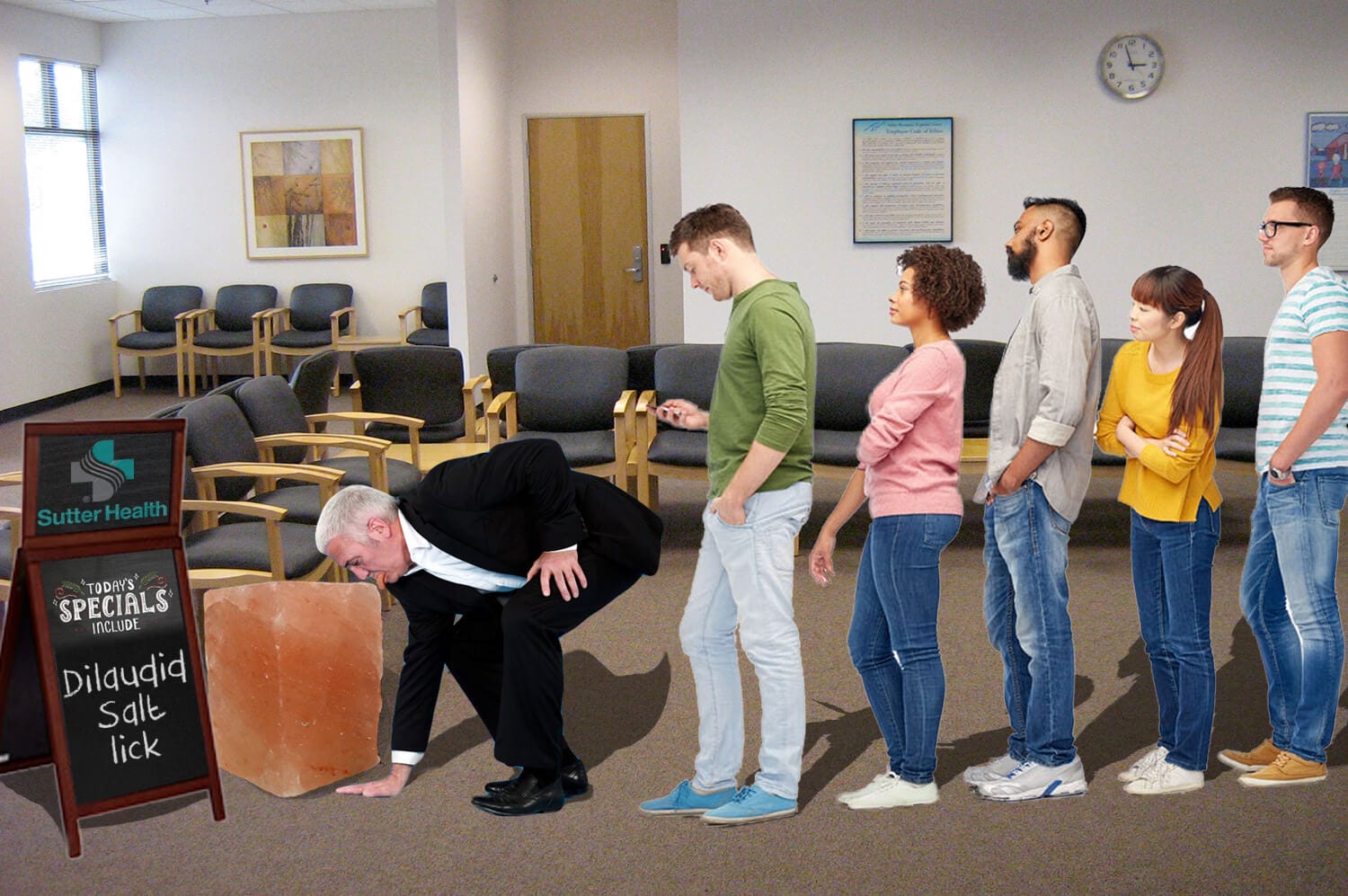 SACRAMENTO, CA – Sutter Health System is changing the game. In a world of overcrowded ERs and the inability to triage efficiently, new innovations must be considered. Sutter Health instituted a Dilaudid Salt Lick™ to try and cut down on pain admits.
"Everyone was always coming in with 10 out of 10 pain, it would tie up our doctors and some sick patients wouldn't get seen for hours," hospital CEO Patrick Fry told reporters. "I challenged the entire staff to come up with a solution, and the Dilaudid Salt Lick™ was conceived."
A nurse from Yuba City came up with the idea when she was staring out her backyard at deer lining up to get a taste of a salt lick in her back yard. "I tried putting up a fence, putting out corn seed, and nothing worked to keep the deer out of my garden. Not until I hung a salt lick, the deer just licked that and went away!"
Sure enough, people line up for blocks to get a chance for a lick of the Dilaudid Salt Lick™, and typically don't ask to see a doctor. "Yum, yum, yum," Daniel Reynolds, a frequent Dilaudid Salt Licker told reporters while smacking his lips. "This saves me an IV stick and taste is tremendous!"
Stroke time to TPA decreased, stents were placed sooner, and patient satisfaction soared. Admits have dropped 90% in some ERs across the health system as well. "We've heard of a bucket of Percocet to help patients, but we feel our solution is superior," Dr. DeSora told reporters.
"The best part of the Dilaudid Salt Lick™ is that you can easily eat your Doritos and talk on your cell phone while licking!" Patrick Fry said. "Patients don't seem to complain."