CULVER CITY, CA – NBC and the American Urological Association (AUA) have announced that power game-show duo Pat Sajak and Vanna White will be co-hosting a brand new urologic game show this coming fall called Wheel of Foreskin.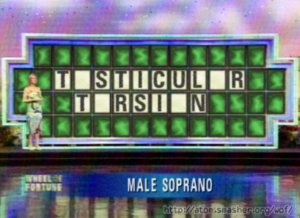 "We've been desperately wanting to tap into the medical professional urology demographic, but seriously, who doesn't?" said UCLA urologist Merv Griffin during this morning's press conference, which shortly took place after an 11 AM cystoscopy. "This is exactly what the world needs: a game show about urologic conditions, both emergency and not."
AUA President Dennis Pessis called NBC several years to ago to pitch the idea, but the idea, unlike the foreskin in a bad case of paraphimosis, didn't have any traction. Over time, NBC warmed to the idea when they realized that being a urologist was synonymous with a being a Wheel of Fortune fan.
"When I thought of the audience cheering, 'WHEEL!!! OF!!! FORESKIN!!!' the idea just gave me goosebumps," said NBC producer Jonathan Fournier. "I realized later the goosebumps were actually a rash due to acute interstitial nephritis but either way we had to push the idea into production."
Currently, NBC is trying to figure out how to rework and update its iconic wheel used in Wheel of Fortune for this new concept. Brainstorming executives see enormous potential.
"We were thinking instead of dollar amounts, we might use doses of antibiotics used to treat urinary tract infections or, better, different urologic procedures like suprapubic catheters or TURPs," explained Fournier. "Instead of buying a vowel, contestants could send a urine sample. They could even spin the urine instead of the wheel. Wow, I love this show already!"