NEW YORK, NY – Ryan Andreoli knew the end was coming when he licked his lips, reached into his pocket, and found that he wasn't carrying any ChapStick. "I'm a goner," he said under his breath.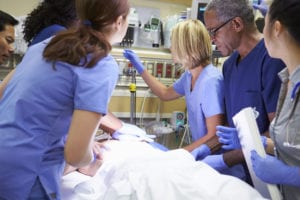 Everyone can relate to Andreoli's predicament. There is no worse situation in life than to have chapped lips and no immediate access to ChapStick, Burt's Bees, or any other kind of life-saving lip balm on the market. Actually there might be one worse situation: when you pull the cap off and the lip balm gets stuck in the cap.
Faced with no other alternative, Andreoli did what any other reasonable human being with chapped lips would have done: he called 911.
EMS rushed Andreoli to NYU Langone Medical Center, where he bypassed the waiting room and went straight into the trauma bay.
"Good God, he's hemorrhaging from his mouth!" exclaimed emergency medicine nurse practitioner Maisha Stevens, and emergency medical staff immediately tended to the call. Nurses placed two large bore IVs. Andreoli had lost consciousness at this point due to hemorrhagic shock. He was intubated and started on IVF and vasopressors until blood was ready. Staff alternated between applying pressure on his lower face and lubricating his decimated lips with artificial saliva and even spitting directly onto his mouth.
Andreoli's critical care team was stunned.
"Who leaves their home without carrying any lip balm?! That's just a walking death sentence what with it being so windy and cold outside," critical care attending Michael Riley taught his team of residents and interns during a moment when Andreoli had spontaneous return of circulation after 5 minutes of CPR. "Always carry ChapStick or this can happen. We see it all too often."
Diagnosed with hemorrhagic shock and acute hypoxemic respiratory failure secondary to lip balm deficiency, Riley and his team placed the patient on a ChapStick drip. Unfortunately for Andreoli, it was too little too late. The damage had been done. Andreoli passed away. And all because he left home without ChapStick.