NORTH POLE – Santa pulled off another successful Christmas for children around the world but it has come with a cost: Earlier this morning, Santa was diagnosed with acute pulmonary embolism (PE) and bilateral deep venous thromboses (DVTs).  Santa has been at North Pole Medical Center since Christmas Day, when Mrs. Claus dropped him off.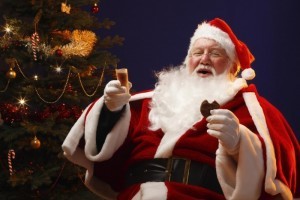 While at NPMC, patient developed bilateral calf swelling and pain, as well as pleuritic chest pain and shortness of breath.  "I've never had chest pain like this," Santa told Gomerblog.  "Usually if I have chest pain it's because of one of the reindeer just kicked me in the chest with its hind legs.  Not this time."
A CT with contrast revealed his acute PE with mild right heart strain.  Santa was not given thrombolytics as he was hemodynamically stable.  He is being treated with a continuous heparin infusion.  He is currently in jolly condition.
"Do I think recent travel contributed to his clots?  You better believe it, the man's traveled 100, maybe 200 million miles in the last 24 hours or so.  Let's be glad he wasn't found dead in someone's chimney," NPMC hospitalist Timothy Frostbite responded at a news conference packed with elves.  "I told Santa that he needs to get up and move around that sleigh more, but I know he's cramped for space with all those presents."
Kids, don't worry, Santa is expected to make a full recovery.
"Santa is doing well, and there's no reason to think he won't be ready for Christmas in 2019, unless he bleeds out, of course," Frostbite said.  "So kids, continue to leave out the milk and cookies next year, but avoid giving Santa leafy green vegetables in case we discharge him on warfarin.  We want a Merry Christmas in 2019, not a bloody one."