LAS VEGAS, NV – Maker of orogastric, nasogastric, and gastric lavage tubes, Medical Stuff, unveiled a new product line last week that is predicted to be a big hit for patients, especially on New Year's Day.  Bacon flavor will be heavily packed into the plastic tubing and will be constantly released for up to 72 hours.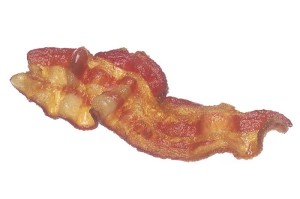 "Our goal is to provide a more tolerable experience for our patients who need gastric lavages," said Medical Stuff spokesman, Richard Myers.  "What better way to make gastric tubes more tolerable than the sweet hearty flavor of smoked bacon."
The bacon-laced tubes appear to already be a hit.  Some patients coming through the ER on New Year's Day are even requesting gastric lavage tubes to be placed for their alcohol or drug intoxication.
Overdose patient, Donald Simmons, loved waking up from his drug overdose lavage.  "What a difference.  I use to HATE getting gastric lavages after I overdosed.  Now I can't get enough of this.  The smoky applewood bacon flavor is fantastic in my mouth!  Next week, I look forward to the maple-cured bacon gastric tube."
Rachele Millington, another chronic alcoholic patient, describes going from crying to total elation after a medical intern swapped out her nasogastric tube for a bacon-laced NG tube.  "I could barely swallow and felt like gagging all the time.  Now, I look forward to every little bacon swallow from my mouth."
Medical Stuff is considering bacon-flavored endotracheal (ET) tubes for the portion of the tube in the oropharynx.  Bacon hurricane spray, bacon throat swabs, and bacon tongue depressors are other prototypes for the near future.