WASHINGTON, D.C. – In a bold first move since his recent appointment by President Obama as "Ebola Czar," Ron Klain will quarantine the entire U.S. Navy after learning that the virus is readily carried in semen.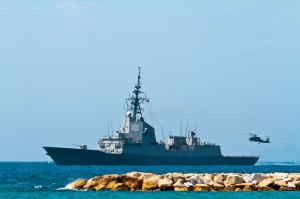 His announcement comes on the heels of widespread criticism of his lack of qualifications for the job. He defended his decision at yesterday's press conference in Washington.
"I may have absolutely no science background or training, but I understand basic epidemiology. I am a lawyer and a politician by the grace of God, but it doesn't take a Ph.D in microbiology to know that to control a disease outbreak, one has to control the source of its spread. I haven't worked a day in health care in my life, but as soon as I heard via a PowerPoint presentation that high concentrations of the virus are present in semen, I took immediate action."
Klain went on to explain how he did take a biology class in tenth grade, and that "just being at Harvard" prepared him to tackle any challenge life throws at him. "I dissected a frog in addition to a slimy slug, and I really think that will help me lead the nation in protecting us from Ebola."
At press time, 26 Naval vessels were being quarantined at the pier, and liberty was once again canceled for all Navy personnel. Soldiers, Airmen, and Marines will not be affected, unless they have been in contact with Seamen.