RALEIGH, NC – A brand new healthcare system opened in Raleigh last week, as Atlantic Healthcare System (AHS) unveiled its state-of-the-art drive-thru clinic/pharmacy to rave reviews from consumers.  Atlantic Health calls Clinimax "The Future of American Medicine," and it effectively takes virtual medicine to the next level.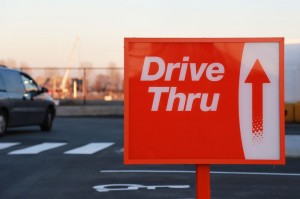 AHS refers to Clinimax as a "clinimacy," a clinic and pharmacy combination.  Timothy Anderson, CEO of AHS, described the process of his new business in a recent interview.
"After the recent boom in telemedicine, we learned that about 99% of patients using a virtual visit received a prescription for an antibiotic or narcotic/sedative.  After logging off, they then needed to go pick up the medication at the pharmacy where it was called in.  Almost all of these patients used the pharmacy drive-thru once they got there.  The natural next step was to combine the clinic and pharmacy, while never making the patient get out of their car."
Clinimax uses two separate queues – the driver of each vehicle selects either the "Antibiotic Lane" or the "Narcotic/Sedative Lane."  At the kiosk of the Antibiotic Lane, the customer enters their symptoms, and the algorithm does its best to pinpoint a specific body system as the cause.
Anderson continued: "An antibiotic which best covers pathogens in that specific system is selected, so that the approximately 10% of patients who do need antibacterial coverage are appropriately treated.  The other 90% who don't need an antibiotic are dispensed one anyway, in exactly the same fashion as telemedicine patients."
"The Narcotic/Sedative Lane kiosk is even simpler.  The patient merely orders whichever opiate or benzodiazepine he/she would like, selects how many tablets (limit 200), and runs their credit card.  Both lanes will scan patients' insurance cards and store the information in the computer for future visits."
Regarding who signs the prescription, Anderson stated: "The prescription is signed by the on-site nurse practitioner or physician assistant, the medicine is filled by a pharmacist on the fly with a new policy of "close enough" for counting, and the patient then drives to the next window to pick it up.  At no point is any patient inconvenienced to get out of their vehicle for an exam.  It's elegant simplicity in action.  Patients want convenience, and at Clinimax, that is exactly what they get.  American patients know what they need to feel better, so we give it to them quickly and let them get on with their day."
When asked if there are actual physicians present at Clinimax, Anderson went on to explain that North Carolina law still requires a physician to be present to oversee the clinical practice.  "Since a doctor has to be on-site during business hours, we put them on the street out in front of the building as a sign spinner.  It's a win-win for everyone involved. You would be amazed at how quickly some of our docs can spin those signs."