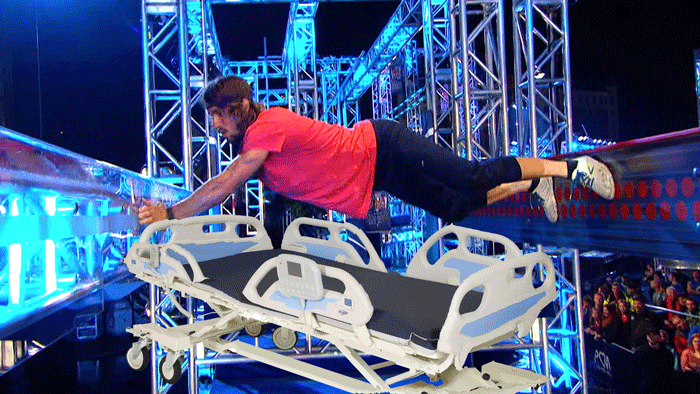 OCEANSIDE, NY – The idea was inspired by seven seasons of American ninja warriors pushing themselves – physically and mentally – to conquer Mount Midoriyama. Physical therapists (PTs) at Oceanside Medical Center (OMC) will now push inpatients to their limits thanks to an American Ninja Warrior-style PT obstacle course. It, too, will contain 4 stages.
"In the old model, we focused on making small gains daily. The goal was to eventually get them back to their old baseline," said PT Isaiah Caldiero. "Not any more. We're not talking rolling walkers or 3-in-1 commodes. We're going bigger, faster. We're talking Quintuple Steps, Warped Walls, and Psycho Chainsaws. Patients are going to hate it. But they're going to love it!"
According to PTs, patients are more motivated and with good reason. "If they fail an obstacle, they could plunge 20 or 30 feet into a cold pool of water. Not to mention the humiliation from being televised for all to see," explained Caldiero. "They want to succeed. They have to succeed." And the results show. Discharges to home have increased 30-fold while discharges to rehab have fallen to zero.
"I had a 73-year-old female patient who came in with horrible left knee pain. She couldn't walk, so I put her on the Ninja course," said PT Jeff Britten. "On day 2, she broke the Double Salmon Ladder in record time. Then on day 3, she conquered Midoriyama's 75-foot rope climb in 27 seconds flat!"
Droves of patients are discharged hoping for both discharge and an American Ninja Warrior tryout.
"There's been one drawback," said PT Casey Catanzaro. "Healthcare providers want to play on the course too. Work productivity has dropped." GomerBlog tried to confirm this with numerous health care providers, but decided to play on the Jumping Spider obstacle instead.