NORFOLK, VA – NURSE AMANDA HAN WAS SUSPENDED EARLY THIS MORNING BY HOSPITAL ADMINISTRATION FOR THE SAME OFFENSE YET AGAIN: ALWAYS WRITING HER NOTES IN CAPS LOCK.  ADMINISTRATION HAD NO CHOICE BUT TO RELIEVE HER OF THE BUTTON ON THE UPPER LEFT-HAND SIDE OF THE KEYBOARD.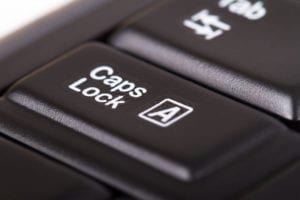 "SHE KEEPS WRITING HER NOTES IN ALL CAPITAL LETTERS," COMMENTED ADMINISTRATOR AHMED AZIZ.  "DO YOU KNOW HOW ANNOYING IT IS WHEN EVERYTHING IS WRITTEN LIKE THAT?  I JUST FEEL SHE'S SCREAMING AT ME THE WHOLE TIME."  AZIZ SHUDDERED.  "IT'S VERY UNSETTLING."
HAN HAS ALWAYS PROVIDED OUTSTANDING PATIENT CARE.  HOWEVER, OVER THE PAST 3 MONTHS HAN HAS RECEIVED NO FEWER THAN 10 WARNINGS TO CEASE HER USE OF THE CAPS LOCK BUTTON OR FACE FURTHER ACTION.  DESPITE THE PLEES OF HER PEERS AND SUPERVISORS TO MAYBE NOT PRESS CAPS LOCK EVERY SINGLE TIME, HAN HAS IGNORED THE WARNINGS, REPEATEDLY INSISTING UPON THE SUPERIORITY OF CAPITAL LETTERS.
"I DON'T UNDERSTAND WHAT THE PROBLEM IS," HAN WROTE ON HER FACEBOOK PAGE, WITH NO TRACE OF LOWER-CASE LETTERS TO BE FOUND.  NONE.
EVERYONE DISAGREES, INTERNS AND RESIDENTS IN PARTICULAR.  THOUGH THE CONTENT MAY BE BENIGN, THE BLITZKRIEG OF CAPITAL LETTERS HAS TERRORIZED YOUNG DOCTORS.
"EVEN THE PAGES SHE SENDS ARE IN CAPS LOCK, SO YOU THINK IT'S A CODE AT FIRST," SAID FAMILY MEDICINE RESIDENT ETHAN ROBERTS.  "IT MIGHT BE ABOUT CONSTIPATION, BUT WHEN THE PAGE READS 'CONSTIPATION' IN CAPS LOCK, IT MAKES ME NERVOUS.  LIKE, IS HE SO CONSTIPATED HE'S ABOUT TO BURST AND NEEDS SURGERY?"
THE WEIGHT OF THESE LARGE LETTERS HAS LED TO A RAPID INCREASE IN WHAT PSYCHIATRISTS DUB "CAPS LOCK NIGHTMARES" AMONG AFFLICTED MEDICAL PERSONAL, WHERE LOSS OF SLEEP RESULTS FROM THE MENTAL COUNTING OF CAPITAL LETTERS, NOT SHEEP.  IT IS FREQUENTLY ASSOCIATED WITH NAUSEA, PALPITATIONS, AND BOTH BLADDER AND BOWEL INCONTINENCE.
"I ONCE HAD A NIGHTMARE WHERE A 30-FOOT CAPITAL Q WAS STANDING ON MY CHEST, SUFFOCATING ME," RELAYED A TEARFUL ANONYMOUS SURGICAL RESIDENT, ANOTHER OF HAN'S TYPOGRAPHICAL VICTIMS.  "JUST ONE LOWER-CASE LETTER.  IT WOULD MEAN THE WORLD."
ADMINISTRATORS HAVE NOT SPECIFIED HOW LONG HAN'S SUSPENSION WILL LAST, BUT IT WILL LIKELY BE LONG ENOUGH TO DISABLE ALL THE CAPS LOCKS BUTTONS IN THE HOSPITAL.