ROCHESTER, MN – American singer and actress Miley Cyrus has told Gomerblog that she has experienced worsening myoclonic twerks over the past several months and is currently undergoing evaluation by a neurologic team at the Mayo Clinic.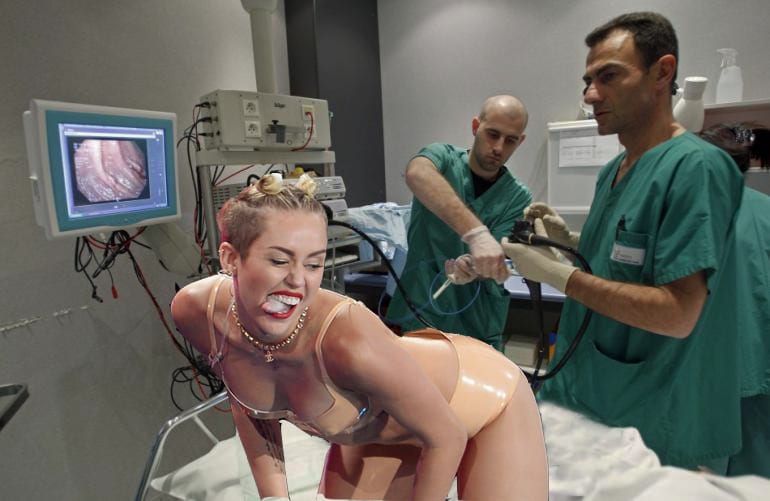 "I'll be sitting down or even lying down when all of a sudden I get these random need to gyrate my lower body, it's really strange," commented a visibly distressed Cyrus.  "It's one thing when I'm performing.  But this… this is troubling."  Cyrus helped propel the voluntary twerking phenomenon back in 2013.
"The main difference between twerks and myoclonic twerks is the involuntary nature of the latter," explained Dr. Jonathan Kariya, one of Cyrus' movement disorder specialists at the Mayo Clinic.  He and his team members jokingly refer to themselves as the "Mayoclinic Jerks" and they deal exclusively with dystonia, chorea, tics, and tremors.  "Imagine you're interviewing for a job or delivering bad news to a loved one, then all of a sudden you have an intense myoclonic twerk.  It's embarrassing.  Arousing but embarrassing."
Kariya explains that positive myoclonic twerks are the most common form and occurs when there are sudden, uncontrolled muscle contractions, leading to the sexually-provocative squatting and thrusting of the pelvis.  Negative myoclonic twerks occur when there is a lapse of contraction mid-twerk.  Cyrus' symptoms are predominantly of the positive type.  She will likely undergo EEG and EMG to determine if the myoclonic twerks are cortical or subcortical and if she's at risk for seizures, in which case the treatment will be to "Shake It Off."
"I just want to be in control of my twerks again," sobbed Cyrus as she slowly twerked away with a tinge of sadness.
In other news, Cyrus' fiancee Liam Hemsworth is undergoing evaluation for a possible rare urologic condition known as wrecking balls.  Though serious, it is not believed to be life threatening.