TUCSON, AZ – According to local witnesses, Mercy Hospital anesthesiologist Henry Stutzman developed a complete small bowel obstruction hours after swallowing his pride in operating room 7.  The incident began when the orthopedic surgeon on the case asked if Stutzman would scratch his balls.  The surgeon was unable to scratch his own balls at the time due to being midway through a right knee replacement.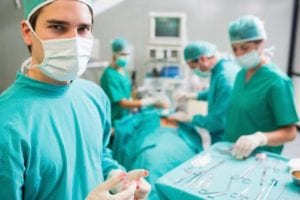 It was at that moment when Stutzman reportedly swallowed his pride, walked over to the gowned surgeon, and scratched his balls. The pride was apparently so large that it was unable to pass through Stutzman's ileocecal valve, resulting in complete obstruction of the small bowel.
Gastroenterologist Steven Russell has seen a rise in the incidence of pride-induced small bowel obstructions in the anesthesia community in recent years.  "Most anesthesiologists will swallow their pride in small amounts," stated Russell.  "Unfortunately, the request to scratch another physician's balls, an orthopedic surgeon's balls no less, required Dr. Stutzman to swallow such an enormous amount of pride that it compromised his entire gastrointestinal system."
Published reports on the adverse effects of pride-swallowing indicate a poor prognosis among more egotistical physicians.  In 2015, six neurosurgeons died from aspirating their pride in response to requests from nursing to place diet orders.  The incidence of pride-swallowing has sharply risen among anesthesiologists.  The American Society of Anesthesiologists recommends prophylactically swallowing a small volume of pride daily.  If a large quantity of pride must be consumed quickly, anesthesiologists are encouraged to puree the pride, along with a healthy dose of dignity, into a "shame smoothie."
Initially, Stutzman appeared to hold down his pride pretty well.  It wasn't until a med student asked him to "pinch the nose on his surgical mask" that Stutzman began projectile vomiting self-respect all over the operating room.