You're on-call, but before sh*t hits the fan, you hit the toilet.  Just when you're pulling up your pants or fixing your belt, you hear that distinctive splash into the muddy waters below: your pager just fell in!  NOOOOOO!!!  Your nightmare has just come true.  What do you do next?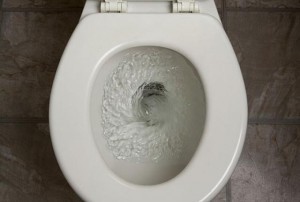 STEP 1: Consider gloving up and going after it.
Wait, wait, wait! I said consider, not actually go and do it!  Geez!  Just thinking out loud.  But now we know you're willing to do anything.
STEP 2: Find an intern.
Yes, this might fall under the category of "scut work," but perhaps that gung-ho and optimistic intern is just the person to help you out.  If your intern respectively declines and earns himself a failing grade, go to Step 3.
STEP 3: Find a medical student.
Who is more optimistic than an intern?  A medical student!  9 times of 10 your med student will be more than happy to help.  But if you're med student fails you (and you fail him or her in return), go to Step 4.
STEP 4: Go to Step 5.
That's right, go to Step 5.
STEP 5: It's time to glove up.
Sadly, you have no other choice.  Get some gloves.  Ideally ones that go up to the elbow.
STEP 6: Flush the toilet.
By our calculations, flushing the toilet may empty out all the water, urine, and stool, while the pager itself might be too large to pass through thus giving you a 5-second window to grab it before the toilet fills up again.  Try it!  Did you try it?  What happened?  Oh, it ended up flushing down the toilet too?  Drats.
STEP 7: Get new pager.
This requires going to the communications office.  Tell them what happened, laugh with them if they laugh at your or act horrified when they act horrified.  Either way, it's a great story.
STEP 8: BINGO!
Look at that new pager of yours!  So new and so exciting, right?  Aren't you excited?
STEP 9: Flush new pager down toilet.
We agree.  Pagers suck.  Flush this down the toilet too and live a happier pager-free life.  You're welcome!