SILVER SPRING, MD – In an effort to bolster nursing satisfaction, the American Nurses Association (ANA) have unanimously approved the replacement of current call lights with new and improved call lights with lockout intervals.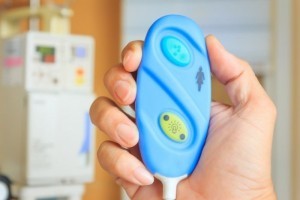 "Nurses have suffered call light fatigue from their patients for way too long," explained ANA President Pamela Cipriano, PhD, RN, FAAN.  "Fact is fact: patients do not understand how to properly use call lights.  Enough is enough."
Inspired by PCA (patient-controlled analgesia) pumps that doctors cannot operate, the new call lights are now required to have a customizable lockout interval, a predetermined period of time during which the call light is inactivated despite the persistent pressing of the button by a demanding patient.  Typical PCA pumps have lockout intervals on the order of 4-10 minutes.  The new PCCL (patient-controlled call lights) will have lockout intervals on the order of 1-6 hours.  So even if the patient presses a call light 1,868 times in an afternoon, only that first press will go through.
"This is one of the most important nursing innovations in the past century," glowed Cipriano, certain this will forever influence the future of nursing for the better.  "Oh, if Florence Nightingale could see us now!"
Last year, a survey filled out by over 3 million of the 3.6 million nurse members of the ANA revealed that nurses answer "that damn call light" no less than 10 times per hour, with nearly 90% of call light buttons being pressed within 60 seconds of a nurse having exited a patient room and the other 10% caused by patients accidentally sitting on the call light.
With increasing patient complexity, no improvements in electronic health records, the sinfully-painful existence of Pyxis machines and their yellow safety belts, and increasing nurse-to-patient ratios, it is no wonder the call light button is considered one of the Seven Blunders of the Medical World.  For that reason, nurses everywhere are welcoming the new call lights with open arms.
"I'm not gonna lie: this thing is amazeballs," said Nurse Anita Chopra.  "I set the lockout for 8 hours.  I love it!"