ATLANTA, GA – After almost a year in the works, Anesthesia is excited to announce the completion of what is likely the world's most epic drape fort.  Located at Atlanta Memorial Hospital, the anesthesia drape fort is already being dubbed one of the Seven Wonders of the Medical World.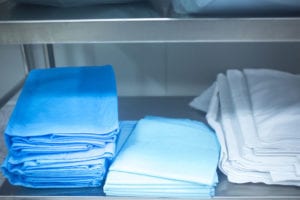 "Remember when we were kids and made forts out of pillows and blankets?" asked Ryan Grossman, an anesthesiologist who recently finished a one-year fellow specializing in the formation of drape forts.  "Same process, except that much more awesome.  I mean, look at it?  It's a dream come true."
Friend and fellow anesthesiologist Thomas Kingston, best known for his contributions to the fields of drape puppetry and drape "Peakaboo!," had nothing but praise for Grossman's achievement.  "This is the Hoover Dam of Drapes," Kingston said with awe.  "Man, I could put on a Broadway production from behind that drape!"
The anesthesia drape fort spans OR 1 to OR 13 and measures 6 feet tall, 6 feet wide, and is just over 75 feet long.  The fort is made out of the hospital's finest surplus of cotton drapes.  Despite its impressive size, quality is certainly not compromised.  It still remains impenetrable by all types of surgeons.  It provides much needed shielding against resting bitch face.  It still allows anesthesiologists to not wear pants.
"The best part is actually being hidden on both sides," explained Grossman, as he sits on the ground with his legs crossed, studying a "very difficult" Sudoku puzzle by candlelight.  "Hmmm, this is a tough one."  He stares at the candle.  "Hmmm, probably should haven't this candle here with all these volatile gases around."  He shrugs his shoulders indifferently.  "Oh well.  Gosh I love this fort!"
The next projects for Anesthesia are (1) to add a refrigerator in order to avoid malnourishment during Whipple procedures, and (2) to link their epic drape fort to a heating unit in order to stay warm during the ortho season of sub-zero operating room temperatures.