BOSTON, MA – The medical community is abuzz today with the announcement of the new Journal of Negative Studies. The journal, which will focus on studies that showed no effect on patient outcomes, will publish its first edition this July.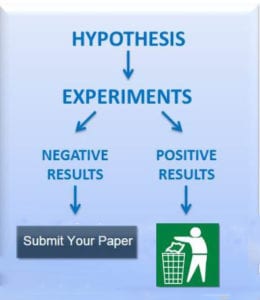 "We felt there is a large niche this journal can occupy," said Editor-in-Chief Christopher Reese, M.D., M.P.H. "For too long, when a prospective randomized-controlled study did not work out, researchers have struggled to find a venue to share these negative results. Now, they have to look no further than the Journal of Negative Studies."
"The problem has been that often times researchers would work hard on a project that ultimately yielded no effect," added associate editor Dr. Elizabeth Keeting. "It's important to publish your negative data so no unknowning researcher attempts your same study again."
Dr. Heather Luckulio reports that her recently-accepted manuscript "Reading with Sick Children Does Not Improve Type 1 Diabetes Medication Adherence" is a prototypical case of important negative data.
"Recently, we studied the effect of a children's book on diabetes medication adherence," explained Luckulio. "Our research group developed a children's book to explain diabetes medications to children living with type 1 diabetes. It took years to secure funding develop the book, and then get IRBs approved. No small task indeed. We thought that such a book would support adherence, but sadly this was not the case." Luckulio, after composing herself for several seconds went on. "I guess it's important to let people know, that such a book will not help their patients."
"Hey, at least we tried," she added.
Dr. Robert Riquettes, a pediatric pulmonologist, is elated. Recently, he concluded a study that took nearly two years. By showing families videos of asthma exacerbations in conjunction with asthma medication teaching he had hypothesized that videos would lower presentations to local emergency rooms for asthma flares.
"I think the videos scared our patient's families because ER trips went up." Riquettes then got quiet and reflective. "I mean it was a good idea, right? Who would have thought it would have backfired like that? Well, at least we can let people know that extra education does not help our families. So I guess my many years of work was not lost after all."
"The world is full of negative data," concluded Reese. "This journal will allow us to make something positive out of it."