ROCHESTER, MN – Recognizing it is a form of immobilization in which health care professionals are unable to move around much, a study newly published in the Mayo Clinic Proceedings found that charting and documentation in an electronic health or medical record (EHR or EMR) increased the risk for deep venous thrombosis (DVT) and pulmonary embolism (PE) by nearly infinity.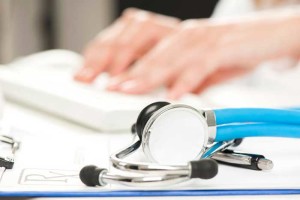 "This is an eye-opening study, truth be told," admitted Mayo Clinic hospitalist Rima Shah, as she enters an order for Lovenox (enoxaparin) 40 mg subcutaneously daily, first shot now, on herself for venous thromboembolism (VTE) prophylaxis. "When I see one of my bedridden patients, I think to myself that this guy is a setup for PE by being so immobile. What this study brings to light is that if this patient saw me sitting at my computer typing notes for hours upon hours on end, he's probably thinking the same thing about me. We all spend like 10 hours a day sitting in the same position charting… Is it me or am I feeling short of breath?"
In the study conducted by Stephen Homan and Eric Wells, 200 health care professionals in the Mayo Clinic were randomized into two groups of 100: the control group would chart and document as per usual, while the experimental group was asked to chart "no-word notes" and "not be a sloth, but move around a bit." The two groups were followed for 12 months in an intention-to-treat analysis. The primary end-point was development of VTE: DVT, PE, or both.
In the control group 75 health care professionals developed VTE. In the experimental group, zero health care professionals developed PE. (In both groups, 25 health care professionals exited the study due to burnout. This is typical in any study of health care professionals.)
"Every once in a while a paper comes along that requires immediate change in practice, and this is one of them," explained hematologist Erica Wainwright, who is seeing an increasing number of doctors, nurses, physician assistants, and others in her pulmonary embolism clinic. "From our first day at work in health care until retirement, we should be on VTE prophylaxis, whether it's heparin or enoxaparin or leg compression devices. Because once that first blood clot hits, unless you're quitting medicine and charting for good, you've bought yourself lifetime anticoagulation."