CHAMPAIGN, IL – Miracles are coming early this holiday season as medical and nursing students across the nation are diagnosing family and friends with life-threatening conditions.  Every year, the nation's top students migrate back home for the holidays where they generously offer free medical council and recommendations to those who ask for it, and even those who don't.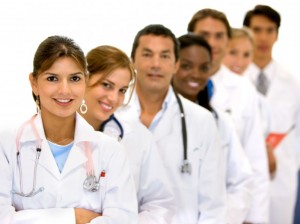 Crazy Aunt Kirsten of Kingman, AZ was devastated to find out that she may have a rare condition called a Pancoast tumor.  "I was mixing the mashed potatoes for Thanksgiving dinner and mentioned that my arm was starting to hurt.  That's when my nephew, a second-year medical student, said that I might have a french-toast tumor in my chest that is dissolving my arm nerves."
While an actual doctor assures the she has absolutely nothing to worry about, she still has her concerns.  "I'm just glad that my nephew caught this before it became too serious."
Not everyone, however, is grateful to receive these unsolicited medical evaluations.  Vicky Raflugian, a second-year nursing student, states that her cousin of the same age "definitely is bipolar" citing such evidence such as promiscuous behavior.
"She practically slept with every guy in town, even Tommy Patane!  She knows I used to date Tommy in high school!"  Vicky offered a concurrent diagnosis of acromegaly after making the observation that "she isn't even that hot!"
Sources within the Raflugian household state that tensions between the two reached peak tensions when Vicky stated a poor prognosis for her more attractive cousin.  "She has like a major problem.  She seriously needs to be on medication or something."
The most impressive story from this Thanksgiving season comes all the way from Michigan. Fourth-year medical student, emergency medicine bound Wallace Stiller, saved his entire family from certain death.  "My family had just come inside from making snowmen outside and I noticed that all of their faces were a little red.  Obviously this was due to a carbon monoxide leak."
He evacuated his family and they enjoyed Thanksgiving at a nearby Burger King, safe from the toxic gas that may or may not have invaded their home.  Wallace's father, who was recently diagnosed with Pompe disease, stated, "I'm so proud of [Wallace] for saving our family once again.  Who knows how the carbon monoxide would have reacted with my wife's Brugada syndrome."
This isn't the first time that medical and nursing students have saved lives, just ask Charlie Richie of Virginia Medical School who just last year saved the life of an elderly woman on a flight home for Christmas.  "When the flight attendant asked if there was a doctor on board, I knew I had to act."  Charles made his way up to an elderly woman complaining of back pain, past an NP who was in the middle of taking a thorough social history.  Charles believed the woman to be having a heart attack and requested the plane to be grounded.
"I remember hearing one of my attendings say that heart attacks can have atypical presentations in older women, so when the old lady told me she was having right-sided flank pain, I knew exactly what was wrong."  Once landed, the woman was rushed to the hospital and discovered to have a chronic kidney stone.  The pilot praised Charlie's resolve and confidence stating, "I was really hoping to deliver the 132 passengers home in time for Christmas, but when a 3rd-year medical student says to land the plane, you land the plane."
All of this comes at the heels of last week's astonishing story describing another 2nd-year nursing student who just finished her psychiatry rotation who self-diagnosed herself as "must be having OCD because [she] really can't stand having a messy apartment."