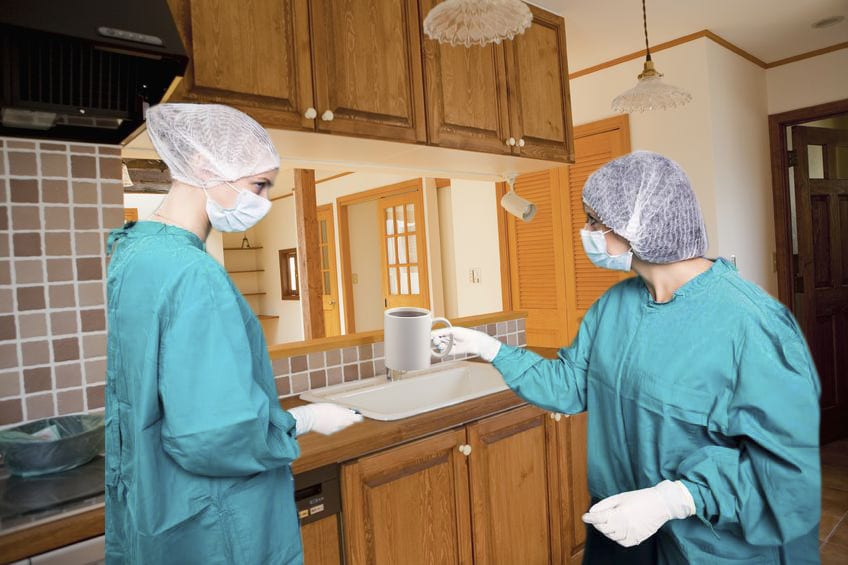 ATLANTA, GA – Local surgical technologist, Janelle Paulson, had to make an unexpected stop at home after work, cited co-worker Katie Peters. "We don't know where any of our scrub techs live, but we were going out for drinks after work and Janelle said she needed to stop at home right-quick."
Not missing out on a chance to see a scrub tech's home, she went up to apartment 6A. In a rare misjudgment, Janelle proceeded let Katie into her apartment. When she realized her mistake, she turned to her in the entryway and said with her arms out, "Don't touch anything."
"It was strange there was blue everywhere," Katie said. "Blue table cloth, blue napkins, it was freaky. She even made us gown and glove before entering!" When Janelle went back to change, Katie had to peek in the kitchen drawers. "Everything was well organized with a little space in the drawer where she had written in black marker what was inside."
Finally Janelle caved and offered her friend a coffee. "Thanks," Katie said.
"Ok two mugs on the counter and one, two, three, four, four mugs still in the cupboard," Janelle said out loud. "Oh and one in the sink, that makes seven. Cream or sugar?"
"Both, please," Katie replied.
"One sugar in the coffee and one, two, three, four, five, six, seven, eight, nine," she went on until thirty-seven. "Thirty-seven sugars left in the box. One ounce of creamer in the coffee and 1, 2, 3, ounces of creamer left in the jug. Oh, I'll have to pick some up soon," Janelle reminded herself.
Oddly enough Katie couldn't find a place to sit down as she stirred her coffee with Janelle's spoon that was counted correctly. "Where do I sit?"
"What do you mean, sit?" Janelle responded.
"Like sit down, I don't see any chairs."
"Oh, you have to stand in here honey." Janelle, like all scrub techs does not own any chairs.
When they were done, they put their dishes in the sink and Janelle proceeded to re-count everything before they went to the party.
"Twelve, thirteen… thirteen spoons. We are missing one," Janelle said. "Hold on, I'll call X-ray."
Two more recounts and an hour later X-ray was still not there. "What is taking them so long? We're going to miss the party," Katie complained.
"I don't know what X-ray does when we call them, it always takes this long."
Finally after 90 mins the X-ray technician had pulled the C-arm all the way up to the 6th floor in the elevator-less apartment.
"Finally!" both girls said simultaneously.
The missing spoon was never found.