BOULDER, CO – Bronco Products, Inc. is pleased to announce the release of the FDA and DEA approved Bong-dongle pulmonary incentive spirometer/peak flow meter (patent pending). The Bong-dongle is a revolutionary new device that couples therapeutic pulmonary incentive spirometry and one-hit technology with the pleasures of smoking your favorite cannabis product. The Bong-dongle is a simple device that plugs right into any incentive spirometer utilizing one of several universal adapters.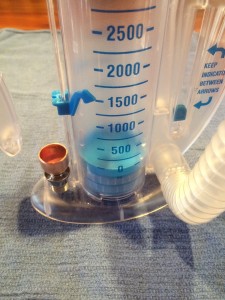 Medical marijuana has recently been legalized in many states and recreational marijuana is also legally enjoyed now in select states making acquisition and smoking easier than ever before. Incentive spirometry has long been known to aid in pulmonary health in primary, secondary, and tertiary healthcare settings as well as in the comfort of your own home. The Bong-dongle easily melds increased pulmonary and mental health into an efficient and holistic healing combination for one low price.
The Bong-dongle provides a calibrated metric enabling users to increase forced inspiratory volume (FIV) as well as forced expiratory volume (FEV) thereby increasing lung capacity and subsequent smoke absorption. Double-blind placebo studies demonstrate consistently higher serum cannabis levels when using the Bong-dongle marijuana smoking device. Recent observational studies suggest that when utilizing the Bong-dongle, post-op patients require less analgesic and anxiolytic medication thereby reducing recovery time and hospitalization expense. These studies are mirrored by skyrocketing Press Ganey scores in patient satisfactions surveys in Boulder.
In addition to facilitating pulmonary and surgical recovery, the Bong-dongle is useful and therapeutic in the treatment of anorexia and anxiety. A premier psychiatric hospital in Boulder now routinely uses the Bong-dongle to successfully treat conditions such as anorexia nervosa and other generalized anxiety disorders as defined in the new DSM V.
Diabetics must use caution when using the Bong-dongle as there have been reported incidences of binge eating with ensuing spikes in serum blood sugar and A1C, especially in homes where butter pecan ice cream, twinkies, and Doritos are readily accessible. The new inaled insulin/marijauna combination drug could be a great addition to counteract these side effects. The Bong-dongle is not recommended in the treatment of obesity or sedentary lifestyle!
In order to accurately track and quantify therapeutic benefits of the Bong-dongle, Bronco Produces includes a useful graph that records progressive and improving FEV and FIV along with calorie intake and body mass index (BMI). These data can also be uploaded to any smart phone by utilizing an easily available free app.
Tell your primary health care provider, pulmonologist, or respiratory therapist you will except no substitute for the Bong-dongle. Bronco Products, Inc. has been providing quality respiratory and recreational narcotic breathing devices for the health care industry since 1955. The Bong-dongle is available online and in most health care supply outlets and is covered by most insurance plans.
Manufacturers disclaimer: Bronco Products, Inc. is not responsible for misuse of the Bong-dongle pulmonary spirometer. The Bong-dongle is a highly durable and efficient pulmonary function and smoking device; however, there have been reported cases of customers smoking other materials such as crack cocaine, narcotic capsules, tablets, meth, heroin, hashish, lighter fluid, paint thinner, cat poop, and bath salts. Although the Bong-dongle will deliver superior and unrivaled smoke uptake with these substances, Bronco Products reserves the right to void implied and expressed bowl warranty with such misuse.