BOSTON, MA – Tom Brady, a veteran respiratory therapist at Foxboro Hospital, was fired yesterday as he was caught by an eyewitness underinflating endotracheal (ET) tubes of ICU patients.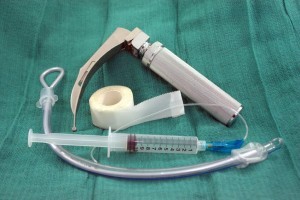 "After speaking with our eyewitness and conducting a thorough investigation," a hospital spokeswoman stated, "we concluded that 11 out of 12 of our intubated ICU patients whose ventilators were managed by Mr. Brady had ET tube balloons inflated to an average of 7 cc instead of the standard 10 cc of air."
Investigators noted that the underinflated tubes would often result in air leaks that would cause the ventilator to beep uncontrollably, while playing the Top 40 hits.  Colleagues noted Mr. Brady always seemed to know what was wrong with the ventilator when he was called to help.
Frequently he would reach for a syringe and quickly inflate the balloon as soon as he arrived, seemingly fixing the problem.  Initial speculation was that Mr. Brady enjoyed being the "go-to guy" among the respiratory therapists when things went wrong.  Some of Tom's colleagues have also speculated that he enjoyed "pushing the envelope" as to what the ventilators could tolerate.
When asked to comment in a conference call with reporters, Mr. Brady replied, "I did not alter the ET tubes in any way.  That is not who I am.  I was surprised as anyone when I heard about it.  I feel that I will be cleared by a full and independent investigation."
Hospital administrators were also tight lipped about the situation.  Foxboro Hospital president Bill Belichick commented, "We hire staff to do their job.  When they don't, they get fired.  Next question."
The Joint Commission (JC) has also started their investigation.  This morning, JC chairman Roger Goodell was busy interviewing a worker about the temperature of the coffee in the gift shop.