CHICAGO, IL – RN Rebecca Stanton was in shock and disbelief today when she received a patient from the OR backwards, soiled, and in a broken inpatient bed.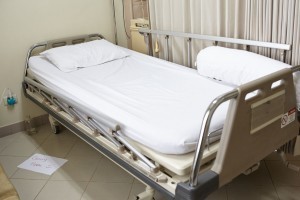 "Mr. Peters arrived from the OR to us backwards, completely soiled, and in a bed that didn't have a functioning motor unit and had a non-functioning IV poll.  I've never seen this phenomenon before," said Stanton.
Anything that could go wrong with the bed did.  The steering mechanism was broken, as was the patient weight feature.  The lock mechanism only worked when two providers stood on the lock pedals simultaneously and sang a Maroon 5 song together.
"The only way to sit the patient upright was to place the patient in reverse Trendelenburg with the legs up and back position down, while holding a wet cloth to the power cord to conduct electricity."
The motorized steer mechanism acted like an 18-wheeler truck without power steering and essentially required more manual power to engage the gears, thus making it absolutely useless.
"Most of our patients come to the unit in perfectly working beds.  I just don't know what happened this time," said Stanton.  "Our hospital never compromises when it comes to quality patient beds.  I don't understand why this time was so different!"