CLEVELAND, OH – New 2016 guidelines on diagnosing pain in the emergency department were released last month and already US hospitals are seeing the effects.  Most of the updated guidelines revolved around performing the FAST exam and door to PCI times. What did stand out was a completely new recommendation that could change the way we deal with pain.  A new procedure, a rectal exam, was recommended to rule out patients with back pain.  The new guidelines also hinted at using a rectal exam to rule-out abdominal pain narcotic seekers but more studies would be needed.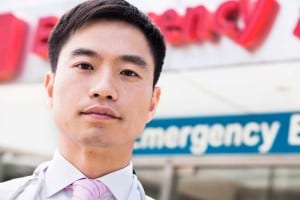 "Our back pain algorithm used to center around a good neuro exam, until everyone just got an MRI.  The rectal exam has always been part of a real neuro exam and now having the rectal exam first, many patients' pain scores are not as bad as they originally claimed."
Narcotic distribution has fallen to an all time low at Cleveland Clinic.  When patients are offered a shot of Toradol versus a rectal exam to establish a need for narcotic pain intervention, guess what most patients choose?
The guidelines do not state what the provider needs to look for in the rectal exam, just that one must be performed.
After a month of implementation, Cleveland Clinic's ER has also seen a sky rocket of headache pain.  "Narcotics aren't prescribed for migraines here, so logically we are seeing headache complaints quickly turn into more severe ankle pain now."