BOSTON, MA – Is laughter the best medicine?  Not any more.  According to a new poll of physicians and other medical providers published in the New England Journal of Medicine, Ativan is the best medicine with laughter falling to sixth place.  This is the first time laughter has fallen from the coveted number one spot.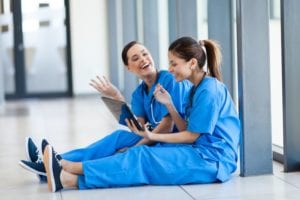 "Were we surprised?" asked Journal editor Erica Stansfield.  "To be honest, no.  Laughter has rested on its laurels for far too long.  Ativan can treat anxiety, seizures, and alcohol withdrawal.  And thanks to the Ativan Diffuser, it can actually make the work life of a medical provider tolerable.  It was a no-brainer and the polls showed that; it deserves to be number one."
The Journal's 10 Best Medicines List sees Ativan take top honors, with Haldol second, coffee third, physical therapy fourth, and anesthesia fifth.  Laughter plummets to sixth, with oxygen, insulin, vaccines, and enemas rounding out the rest of the top 10.  Penicillin and aspirin are no longer in the top ten.
"Physicians, nurses, all medical providers adore Ativan," explains nurse Angela Liotta, the founder of the Ativan Diffuser, which even after its release in early 2015 will likely be a top seller once again this coming holiday season.  "Don't get me wrong, I like to laugh and all, but I like sedated patients even better."
Though Ativan took the number one spot, Stansfield says Haldol wasn't far behind.  "Part of the appeal of Haldol is the fact it comes in blowdart form.  There's satisfaction in hiding behind the nurses station, stalking your prey, and downing them with a well-timed, well-aimed dart."
For the third year in a row, coffee sits comfortably in third place.  "I can barely stay awake, let alone laugh unless I have coffee," said tired critical care fellow Eric Jennings, who once accidentally intubated a rectum due to fatigue.  "In a world without coffee, there would be no medical providers, plain and simple."
Will laughter bounce back in 2017?  Maybe says Stansfield.  "Look, laughter is a good medicine, a very good medicine.  But it needs to work on some things to get back into its prime.  A laughter blowdart?  That would be cool."