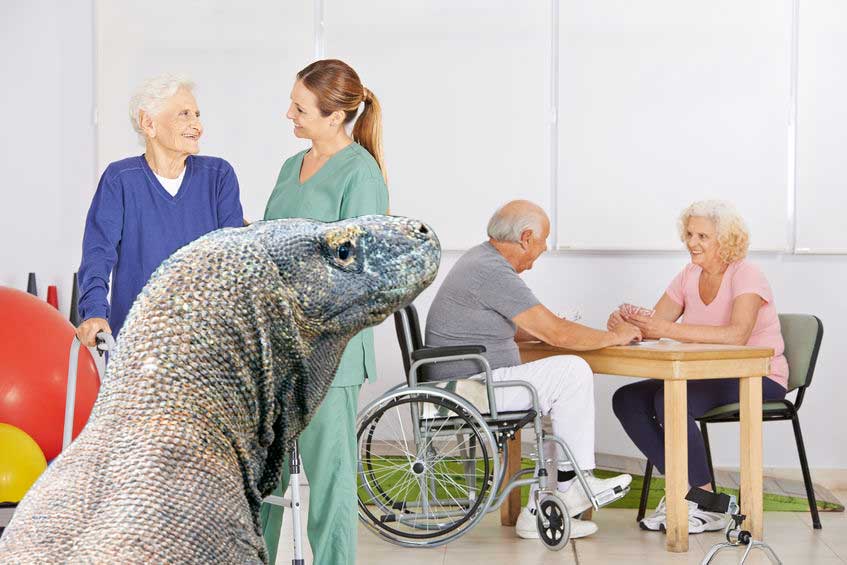 MARIETTA, GA – Physical Therapy has just left recommendations for hospitalist David Walker regarding their mutual patient 50-year-old Gina Welch, who was admitted for pneumonia, stating that she is "safe for discharge home" but recommends both a bedside commode and a bedside Komodo dragon.
"Wow, I'm kind of excited," explained Walker.  "I've never arranged for a bedside Komodo dragon.  Those are way cooler that canes or wheelchairs.  I want one!"
According to the note from physical therapist Felicia Simone, the patient responded well to both PT and OT but she saw the most benefit with pet therapy, particularly with their 145-lb. Komodo dragon.
"Mrs. Welch was very deconditioned when she first got into the hospital," said Simone when we interviewed her, though it was really just to play with the lovable lizards.  "Has she gotten stronger?  Yes.  But is she ready to trek all the way down to Indonesia to get her own Komodo dragons?  No.  That's why I want her to have one at bedside.  You know, to make life a little easier."
Welch loved her cold-blooded companion while hospitalized at Marietta Medical Center, so much so that she named him Kobe.  "Not only did Kobe cheer me up," Welch glowed, "but he also hunted and ambushed annoying little creatures, like pre-rounding interns or anyone who wanted to check my blood pressure in the middle of the night.  Having him around, I was able to get some rest!"
This is not the first success story regarding pet therapy.  In 2014, Westchester Medical Center in Valhalla, NY implemented pet therapy with black bears and grizzlies, and it was a landmark achievement if you ignore all the fatalities.
Social worker Darren Johnson is working on the dragon, a tall order but he believes he can get it done.  He's even looking into a special 3-in-1 Komodo dragon that cradles the commode and does all the wiping.  He grabs Walker by the arm.  "Dr. Walker, when you have a second, the dragon isn't considered equipment.  Can you put in an order for durable medical reptilians instead?"
UPDATE:
Simone has just made an addendum to her note, recommending a bedside kimono for Welch as well.