NEW YORK, NY – After nearly six months of work up, local dermatopathologist Dr. Jerry Smith finally has to admit defeat. He simply can not completely rule out pathology.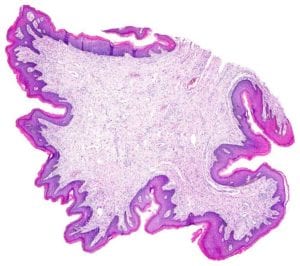 "It's a difficult situation," says Smith.  "The dermatologist did a punch biopsy of a 'skin lesion' and specifically asked me to 'rule out pathology.'  If there was any sort of pertinent clinical history or differential diagnosis, I'm sure he would have listed it.  But when he says 'rule out pathology,' that means it could be literally any disease known to mankind."  Unfortunately for Dr. Smith, after preparing and reviewing the slides, there seemed to be no evidence of pathology.
"When the skin looks completely normal, ruling out pathology is an impossible task.  There are a few skin diseases that can have subtle findings, like amyloidosis or scabies, but this had nothing.  Not to mention, there are lots of different types of 'pathology' out there.  I mean, can I really rule out scabies, pre-eclampsia, and a broken rib just based on a normal skin biopsy?"
The result is a multi-million dollar workup for all known pathologic conditions.  But even after multiple rounds of immunohistochemistry, flow cytometry, immunofluorescence, electron microscopy, and whole genome sequencing, he was still unable to definitively exclude pathology.
"I feel like a failure," says Smith.  "Ruling in pathology is usually more straightforward.  If there's evidence of an inflammatory disease or skin cancer, I can simply sign it out as 'pathology identified,' and move on.  But when there's nothing, what can you do?"
The submitting dermatologist, Dr. Unknown Provider, was unable to be reached for comment at his listed phone number, 000-000-0000.  The status of the patient is unknown.